Experimental Therapy Anle138b Shows Promise as Diagnostic Tracer
Anle138b binds to lipidic alpha-synuclein structures linked to neurodegeneration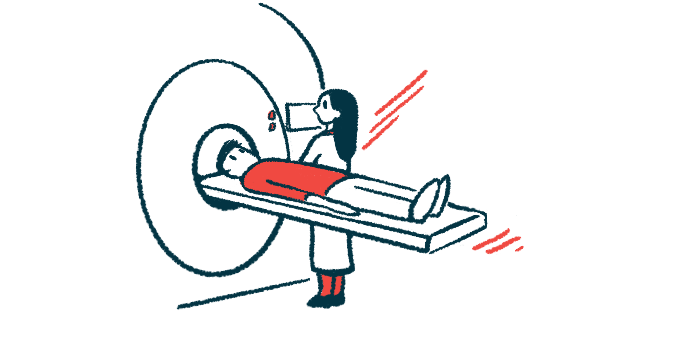 The small molecule anle138b, an experimental therapy for Parkinson's disease, was shown in a study to bind to lipidic (fat) fibrils in alpha-synuclein protein clumps, suggesting it could also offer a new diagnostic approach for the disease.
"The promising drug candidate anle138b … binds to lipidic alpha-synuclein structures. The drug attaches to the tubular cavities within the lipidic fibril," Loren Andreas, PhD, research group leader at the Max Planck Institute for Multidisciplinary Sciences and one of the study's senior authors, said in a press release from the institute.
"We also find such cavities in other proteins that misfold and are associated with neurodegenerative diseases," Andreas added, suggesting that anle138b could be a diagnostic tracer for other neurodegenerative diseases such as Alzheimer's disease and prion disease.
The findings were described in the study "The clinical drug candidate anle138b binds in a cavity of lipidic α-synuclein fibrils," published in the journal Nature Communications.
Phase 1b trial testing anle138b in patients with mild to moderate Parkinson's
One of the hallmarks of Parkinson's disease is the toxic accumulation of alpha-synuclein protein, forming clumps, or fibrils, in the brain and spinal cord of patients.
Anle138b, currently being tested in a Phase 1b trial (NCT04685265), is a small molecule that binds to toxic alpha-synuclein fibrils and was shown to be able to reduce the size of these fibrils in a mouse model of Parkinson's disease and to reverse Parkinson's-related motor symptoms.
Now, a team led by researchers at the Max Planck Institute, in Germany, showed for the first time that fat molecules (lipids) bind to alpha-synuclein fibrils and influence the way they are organized/structured.
By using cryo-electron microscopy and other advanced tools, the team was able to show how lipid and protein components interact within these fibrils.
"It has long been suspected that interactions between lipids and misfolded alpha-synuclein proteins could play a role in the development of Parkinson's disease. But so far, we know very little about this relation," said Bert de Groot, PhD, a senior author of the study and research group leader at the institute.
The team then investigated the interaction between anle138b and alpha-synuclein fibrils in the presence of lipids. They found that anle138b is present in long tubular cavities within alpha-synuclein fibrils, affecting the local structure of the cavity.
Based on the observation that anle138b can bind stably to alpha-synuclein fibrils and is able to readily cross the blood-brain-barrier — a selectively permeable membrane that regulates the passage of molecules into the brain microenvironment, a sort of blood-brain interface — the researchers propose anle138b as an attractive tracer molecule for diagnostic positron emission tomography (PET).
PET test can help detect and quantify accumulation of protein fibrils in brain
PET is an imaging test that can be used to detect and quantify the accumulation of protein fibrils in the brain using tracer molecules that bind to target sites. Current tracer targets have been identified in the exterior of protein fibrils, but the results of this study "emphasize that expanding radiotracer target identification to fibril cavities as well as structure-based refinement of cavity binding molecules, such as anle138b, could prove to be beneficial," the researchers wrote.
Given that such tubular cavities are common in other fibril structures as well, it raises the possibility that anle138b can also bind to cavities found within fibrils formed by other proteins, such as amyloid-beta or tau proteins associated with Alzheimer's disease.
"The exciting question for us now is whether anle138b attaches there in a similar way and could therefore also provide a diagnostic and therapeutic approach for such diseases," Andreas said.
Anle138b is currently being developed in a collaboration between MODAG GmbH and Teva Pharmaceutical Industries.