Incision-free 'surgery' lowers hard-to-treat Parkinson's motor symptoms
Insightec's technique led to reductions in tremors, mobility problems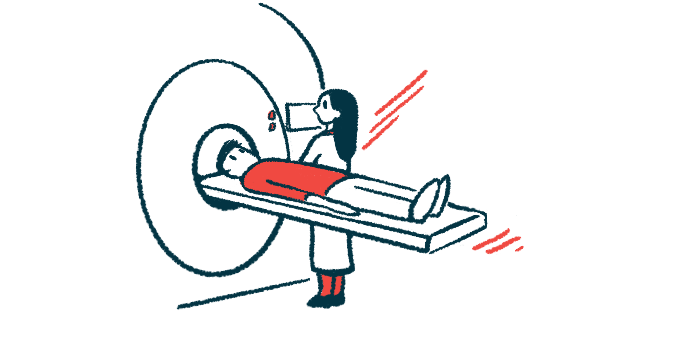 Insightec's incision-free brain "surgery" technology — Exablate Neuro — leads to significant and sustained reductions in tremors, mobility problems, and other motor symptoms in advanced Parkinson's disease patients with a fluctuating response to standard medications.
That's according to one-year data from a pivotal trial (NCT03319485) that tested the approach against a sham procedure in nearly 100 patients. The findings were published in the New England Journal of Medicine in a study titled "Trial of Globus Pallidus Focused Ultrasound Ablation in Parkinson's Disease."
The results supported Exablate Neuro's approval in the U.S. for treating moderate to severe motor complications in advanced Parkinson's patients who don't respond to standard therapies. It was approved in the U.S. in 2016 for treating essential tremor in those who don't respond to standard therapies and in 2018 for those with tremor-dominant Parkinson's.
"These results are very promising and offer Parkinson's disease patients a new form of therapy to manage their symptoms," said Howard Eisenberg, MD, one of the study's authors and a neurosurgeon at the University of Maryland Medical Center (UMMC), one of the trial sites, in a university press release.
"Our study will help doctors and patients make an informed decision when considering this new treatment modality to help better manage symptoms," said Paul Fishman, MD, PhD, a neurologist at UMMC and one of the study's co-authors.
In people with Parkinson's disease, the brain's globus pallidus is overactive, causing muscular rigidity and uncontrollable, involuntary muscle movements.
Exablate Neuro uses precision MRI-guided focused ultrasound to target and remove a tiny part of the globus pallidus. This reduces its activity and reduces motor symptoms, such as tremor and stiffness.
Patients are awake during the procedure, letting doctors detect immediate effects and adjust as necessary. There's no need for anesthesia or a hospital stay afterward.
Exablate Neuro requires no surgical incisions or brain implants, unlike deep brain stimulation, an approved Parkinson's treatment that involves surgically implanting small wires to certain brain regions. The technique also reduces the risk of serious infection or brain bleeding, according to Eisenberg.
"Focused ultrasound is only approved by the FDA to treat one side of the brain in Parkinson's disease patients, so it may be more appropriate at this time for patients with symptoms predominantly on one side," said Vibhor Krishna, MD, a professor of neurosurgery at the University of North Carolina, Chapel Hill, and study co-author.
Results of Exablate Neuro trial
The Insightec-sponsored trial assessed the safety and effectiveness of Exablate Neuro versus a sham procedure in 94 patients with moderate Parkinson's who failed to respond properly to medication. Besides UMMC, 15 sites in North America, Asia, and Europe also were involved.
Exablate Neuro patients received one session of focused ultrasound to the side of their brain controlling the side of their body where symptoms were more severe.
The trial's main objective was to identify responders after three months. Responders were defined as those with an at least three-point reduction in either the MDS-Unified Parkinson's Disease Rating Scale (UPDRS) Part III when treatment effects were reduced or the Unified Dyskinesia Rating Scale (UDysRS) while on medication. The UPDRS-III assesses motor symptoms. The UDysRS measures dyskinesia or involuntary movements.
In total, 87 patients were evaluated after three months — 65 patients (mean age, 64.2) in the Exablate Neuro group, and 22 (mean age, 63.3) in the sham group. Results showed 45 Exablate Neuro-treated patients (69%) responded compared with seven (32%) in the sham group.
Of the 53 Exablate Neuro-treated patients with available data after a year, 37 (70%) responded. Also, 30 (77%) of the 39 responders at three months with available one-year data continued to show a response at 12 months. Patients in the Exablate Neuro group also showed fewer side effects related to Parkinson's medication.
A total of 20 patients in the sham group chose to subsequently undergo the ultrasound therapy and had similar benefits. All the participants will continue to be followed for five years to assess its long-term effectiveness, according to the press release.
The most common Exablate Neuro-related side effects at three months were mild to moderate slurred speech, walking issues, and loss of taste (two patients each), which were usually resolved in the first few weeks.
"As home to one of the top movement disorder centers in the country, and one of only a few medical centers that offer focused ultrasound for Parkinson's, we see firsthand the technology's impact on people's lives," said Bert W. O'Malley, MD, president and CEO of UMMC.
Eisenberg's team is conducting a clinical trial (NCT04728295) to assess the effectiveness of Exablate on both sides of the brain. "So far, we've had promising results," Eisenberg said.
"We are on the edge of the frontier with focused ultrasound, as ongoing research evaluates the procedure in different brain areas affected by Parkinson's, such as the subthalamic nucleus, which controls movement regulation," said Mark T. Gladwin, MD, dean and vice-president for medical affairs at the University of Maryland School of Medicine.