Digital dual-task training enhances Parkinson's patients' gait function
Programs are designed to improve ability to multitask when moving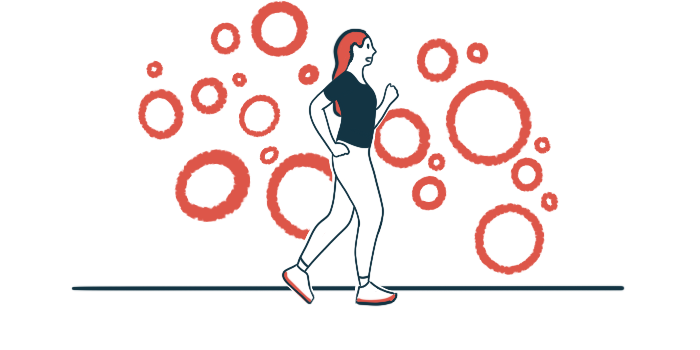 A digitally delivered dual-task training (DTT) program was just as good as a standard physical therapist-led one at improving gait in people with Parkinson's disease, a small clinical trial suggests.
Eight-week DTT programs, which are designed to improve patients' ability to multitask when moving, led to significantly increased gait speed, improved rhythm, and step length. Researchers called the digital platform "an enabling technology that addresses barriers to implementing DTT."
The study, "A Randomized Clinical Trial to Evaluate a Digital Therapeutic to Enhance Gait Function in Individuals With Parkinson's Disease," was published in Neurorehabilitation and Neural Repair.
Gait problems and decreased balance with Parkinson's increase the risk of falls, leading to a loss of daily independence and a higher chance of being hospitalized.
The risk of falling can be exacerbated by cognitive declines. People with Parkinson's may experience dual-task interference, which is not being able to do any one task effectively when trying to do two things at once, making a fall when moving more likely.
Data from clinical trials have indicated DTT — which involves practicing performing a primary motor task while being distracted by a secondary cognitive one — leads to gains in mobility and cognition.
Introducing the DART program
Implementing such a program is time-consuming for physical therapists, requiring a personalized program to be developed that must remain challenging and engaging for each patient, as well as one-on-one training sessions. This limits its usage.
To help overcome this, researchers developed a Dual-task Augmented Reality Treatment (DART) platform to enable DTT's digital delivery.
In the study, the researchers report the results from a clinical trial (NCT04634331) that compared the effectiveness of a DART platform-delivered DTT with an in-person program wherein 51 patients were randomly assigned to one or the other twice weekly for eight weeks (16 sessions), while remaining on their usual medications.
Both types involved tailored interventions that consisted of a range of different cognitive and gait tasks, performed alone (single task) or together (dual task) that the therapist could make more difficult as the patient advanced.
While the traditional DTT was administered by the physical therapist, the DART group patients were equipped with an augmented reality headset to deliver the cognitive and motor tasks via a holographic avatar. Physical therapists could use feedback from DART to adjust the person's program.
DART was self-administered in a room with other participants where a physical therapist was present, but didn't provide guidance.
Comparing DART, standard DDT
While overall motor symptom severity was largely unchanged in either group after eight weeks, significant improvements in gait velocity (speed) were seen after DART or standard DTT in both single- and dual-task conditions. The gains were largely maintained eight weeks after the program ended.
The DART program was deemed not inferior to traditional DTT in its effects on gait velocity, meaning it was at least as good as the standard program. Improvements in gait speed were not only statistically significant, but also met the threshold to be considered clinically meaningful.
Before training, the mean gait speed among trial participants was below 1.1 meters per second for most dual-task assessments, the cutoff generally considered to be predictive of falls with Parkinson's.
After training, mean gait speed increased above that threshold in both single- and dual-task conditions,  "representing a decreased risk of falls," the researchers wrote. "Our findings have meaningful implications in those with [Parkinson's] as many daily gait activities could be considered dual-task conditions."
Improvements in cadence (gait rhythm) and step length were observed in both groups, and cognitive performance was generally stable after eight weeks.
Adherence to both programs remained high and those in the DART group generally found the program to be easy to use and satisfactory.
While the findings support using the DART program for DTT, the platform "will not take the place of a physical therapist," the researchers said, adding, instead it "will serve as enabling technology in which a single therapist may be able to deliver DTT to and monitor multiple [people with Parkinson's]" at one time.
Future versions of DART should be adapted to help more severely affected patients with greater functional limitations, they said, noting a project is planned to test DART's safety and effectiveness at home.