I Will Not Be Shaken by the Stinky Stuff of Parkinson's Disease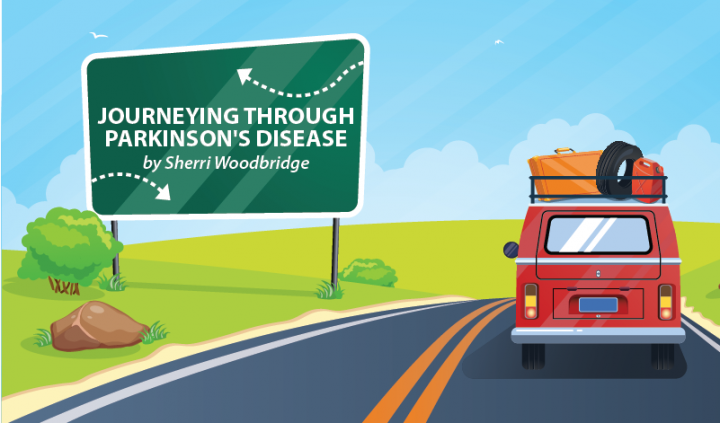 Parkinson's disease. I live so near to it that sometimes writing about it feels like living through it all over again. But if people didn't share their stories, there would be no empathy on this journey called Parkinson's disease to help us through the struggles.
The other day, I was talking with a woman who told me I have a gift for encouraging others. There was a time when I honestly believed I was a discouragement to others. What waste of a life to believe such lies!
As I talked to this woman, a thought came to me. It was this: I believe God gifted me to write. He has allowed this stinking disease to overcome my physical being and so I must write (sometimes, about stinky stuff) in the hope of encouraging others.
Sometimes we get locked in despair when something is taken from us, be it health, employment, a loved one. We convince ourselves that we have nothing to offer. We have no reason to keep trying. After all, with our great losses, we are less. But in reality, the opposite is true! We are more. Because of our losses, we (can) have more compassion. More grace. A greater understanding.
We are just one, but we are a brighter one because loss fuels our light. In our worldly understanding, we feel we can no longer make a difference because of our losses, and yet, we have a God who is making more from our less.
In Josh Wilson's song, "Keep On Pushing Back the Dark," a line says, "Whatever you do, just don't look back." When someone has a chronic illness (stinky stuff), they may wonder, "What does pushing back the dark mean for me?"
When we continuously focus on our diagnosis, we are looking back. We are despairing, grieving, losing. We cannot win a race looking backward. How many races have you watched where a runner looks back, then stumbles and falls? We cannot win a race by going back to the starting point over and over again, either. When we find ourselves at the starting line — the diagnosis — we MUST move forward if we want to win the race we have been assigned.
How do you move forward and win when the stinky stuff is overwhelming? The answer looks different for everyone, but Josh Wilson generalizes how that works: "Don't underestimate the God you follow. Don't lose heart — keep pushing back the dark."
We must take an active part in this fight by knowing who God is — His mercy, His power, His grace. No matter what comes, we must keep trusting and believing. We must not lose heart. We must not stop pushing back the dark, and that happens by moving ahead. As we move forward, the darkness gets farther away.
We don't win races by running as fast and furiously as our bodies will perform, but by being intentional, persevering, not giving up. Some races are not about competing against others — they are about competing against ourselves. The race against a chronic disease is fought one patient at a time, and she or he shares the experience with those who are not as far along in the race so that the newcomer may also learn to run their best.
Advice, experience, and expertise can be given to the coaches (doctors, researchers, advocates) to help them know how to best train their athlete/patient. In other words, this race against Parkinson's isn't just a one-man or one-woman event; it takes a team of encouragers to get us across the finish line.
And being an encourager is what we need to be in our race. Sometimes we will cheer others on with tearful understanding. Sometimes with much-needed humor. Sometimes with righteous anger when we see someone giving up. We need to help others push back the dark.
As I sit here, finishing up this article, another song comes over the air. This one is from Building 429. It is aptly titled (for PD patients), "We Won't Be Shaken."
"… I know You go before me and I am not alone.
This mountain rises higher; the way seems so unclear
But I know that You go with me so I will never fear
I will trust in You, whatever will come [my] way …
We won't be shaken …"
I am not shaken. I know who goes before me in this sometimes stinky journey. I am not alone. When mountains seem to rise high and the way becomes unclear, I know who goes with me. I am not shaken. I will keep pushing back the dark.
***
Note: Parkinson's News Today is strictly a news and information website about the disease. It does not provide medical advice, diagnosis or treatment. This content is not intended to be a substitute for professional medical advice, diagnosis, or treatment. Always seek the advice of your physician or another qualified health provider with any questions you may have regarding a medical condition. Never disregard professional medical advice or delay in seeking it because of something you have read on this website. The opinions expressed in this column are not those of Parkinson's News Today or its parent company, BioNews Services, and are intended to spark discussion about issues pertaining to Parkinson's Disease.