A Message to Readers: It's Not Just the Parkinson's Disease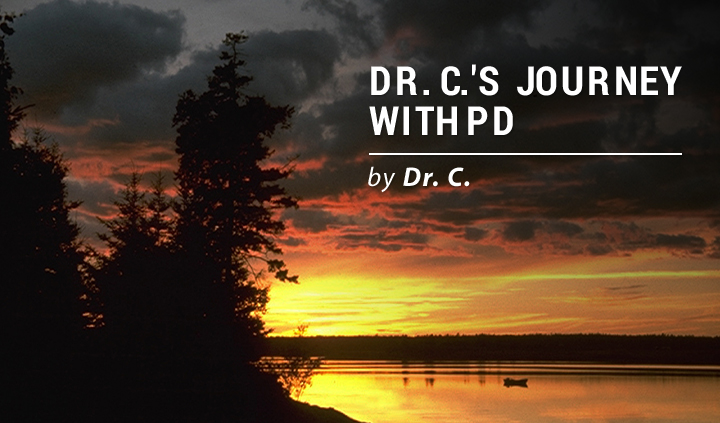 In a previous column that I wrote about courage, I mentioned an eye disease I have for which I receive monthly eye injections. Yes, you read that correctly. I get a needle in my eye. Actually, I get two needles — one injection contains additional anesthetic medicine after the topical application of a numbing agent, while the second injection contains chemotherapy.
The disease is unstable and progressive. Treatment is not the same thing as a cure. My providers do their very best to keep things under control. Unfortunately, I recently had a dramatic decompensation that has left me close to legally blind. It's not the Parkinson's disease alone that makes life difficult, but rather all the other medical "stuff" that gets thrown on top of it. I will be seeing another specialist for assessment and more treatment. But right now, the loss of vision makes it much more difficult to do the quality columns I am so fond of writing for my readers. It's hard to adjust when such events hit unexpectedly and steal away another part of my self-identity.
Having been through other traumatic events in my life (and counseled others through traumatic injury), I know there is a process. There is a grieving process that has famously been described by Elizabeth Kubler-Ross. There is also a recovery process. Not all will be as bad during the healing process as it initially appears. A flood of emotions needs to be taken in, understood, processed, and then let go so that the healing may continue. Time is needed to make life adjustments to the effects of the physical trauma. All of this takes time, patience, and a gentleness with me.
The first emotions I work through are anger: "Why me? It's not fair!" Then comes the self-pity: "This is too hard. I just can't handle it. I wish someone would come and make it all better."
Anger is a normal response. But anger and I just don't do well together. I can easily become "The Grouch." I am an ugly grouch, mostly because of what I call "spilling out behavior." It's been a bad day and the anger needs to go somewhere, so it spills out onto those closest to me. Talk about unfair!  I have way too many skills to get into a verbal fight with those I care about.
Self-pity also spills out onto all of those around me. We may not realize it, but walking around with that dark cloud overhead casts a dark shadow on those closest to us. Clinging to the hope that someone will save us from our own fate if we just whimper and whine loud enough does nothing but create more suffering. The choice, then, is to accept that something bad happened and that is just the way it is. Time to pull it together and attack the new challenges.
Don't get me wrong. I am not saying I feel all rosy and chipper about what has happened. I am upset and constantly reminded of the situation. Every time I open my eyes, I am forced to face head-on what has happened. If I let the emotions overwhelm me, I can't move forward. If I can't move forward, then my self-identity is headed for extinction. The choice is to accept the fact that something bad has happened, and it is time to figure out how to deal with it.
Part of figuring out how to deal with a dramatic loss of vision will involve all those changes and adaptations that need to be put in place in order to maintain a high quality of life. This new journey has just begun, and I will return to writing columns for this group of readers. Right now, though, I need to take a short break while I complete the medical procedures and then put into place any adaptations necessary for helping me to see the computer screen, to use pen and paper, and to explore other adaptive equipment.
Thanks to all my readers, editors, writers, and staff at BioNews Services for their kind words of support and encouragement. In the esteemed words of the former governor of California, "I'll be back!"
***
Note: Parkinson's News Today is strictly a news and information website about the disease. It does not provide medical advice, diagnosis or treatment. This content is not intended to be a substitute for professional medical advice, diagnosis, or treatment. Always seek the advice of your physician or another qualified health provider with any questions you may have regarding a medical condition. Never disregard professional medical advice or delay in seeking it because of something you have read on this website. The opinions expressed in this column are not those of Parkinson's News Today or its parent company, BioNews Services, and are intended to spark discussion about issues pertaining to Parkinson's disease.