The Calm After the Parkinson's Storm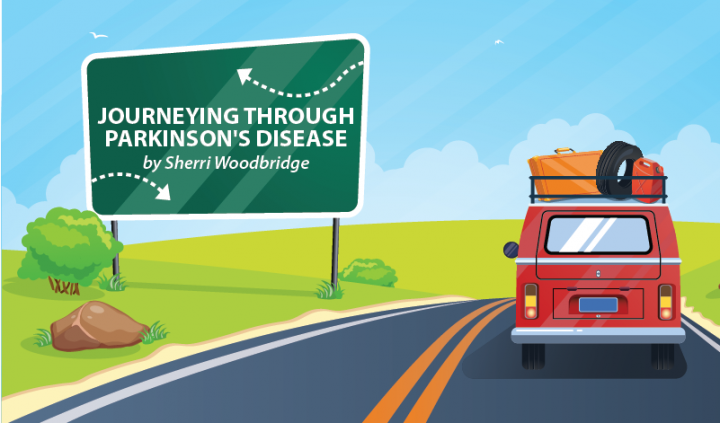 This morning I read a Facebook post from a person who is in the early stages of being diagnosed with Parkinson's disease. He listed some of his symptoms and said he was awaiting lab results. He asked whether it's common for symptoms to differ from day to day and if so, why this happens.
Shortly afterward I checked in with my mother-in-law by text: "A few clouds but nothing like the storm that came down last night! Incredible rainfall and wind. And today, all is calm." 
All was calm yesterday morning, and then the storm clouds began to gather. They hovered overhead all afternoon; no raindrops, just a gradual darkening of the sky. And then, last night while I was at my boxing class, duking it out with a punching bag, God began to duke it out outside with a horrid rainfall that, on my drive home, caused me to drift into the other lane a few times. I was traveling a good deal slower than the speed limit because of poor visibility and with the force of the wind blowing against me, it was a nail-biting ride.

And then the rain eased, and the wind began to abate. It was over — at least for another day.
While trying to formulate a response to the person with a Parkinson's diagnosis, (don't you remember those unsettling days?), I checked out the weather, which led me to the answer to his cry for help: Having this disease is like "living" the weather. Your doctor is the weather forecaster, but he can only make predictions because no one can foresee how your disease will progress or maybe even regress. Just as the weatherman can't predict the next tornado or storm, your doctor can only give you an educated guess at what lies ahead.
You'll probably have heard this one before: Each person's experience with this disease is different. It's true: the variations between symptoms, the severity of those symptoms, and the patient's reactions to medications can be like night and day.
One day you may feel tossed about and nothing seems to help. At other times your meds kick in, and in 20 minutes, or an hour, a day, maybe even a week, you feel "normal" again — or as close to what you remember as normal. 
But there are other days, and thank God for the other days! Days of sunshine, playing with your grandchildren, working in your garden. Days of writing. Perhaps the reprieve lasts for mere hours or minutes, but you grasp every moment you can. Because — and I know you've heard this before — none of us are guaranteed today or tomorrow. And not because we have Parkinson's, but because that is the nature of living. Parkinson's is not a death sentence; it is an invitation to live your best now.
After the storm, there is calm. The trees have been stripped bare of their leaves by the fierce winds, and the neighbor's trash cans have blown into your front yard. You stop to listen and realize that the wind no longer whistles as it passes your windowpanes.
It is still. You take a breath. You straighten things up and return the garbage cans that, thankfully, had been emptied before the storm hit. And you thank God the storm is over, if only for today.
***
Note: Parkinson's News Today is strictly a news and information website about the disease. It does not provide medical advice, diagnosis or treatment. This content is not intended to be a substitute for professional medical advice, diagnosis, or treatment. Always seek the advice of your physician or another qualified health provider with any questions you may have regarding a medical condition. Never disregard professional medical advice or delay in seeking it because of something you have read on this website. The opinions expressed in this column are not those of Parkinson's News Today or its parent company, BioNews Services, and are intended to spark discussion about issues pertaining to Parkinson's disease.