Study: DaT-SPECT Imaging Likely of Little Use in Trial Recruitment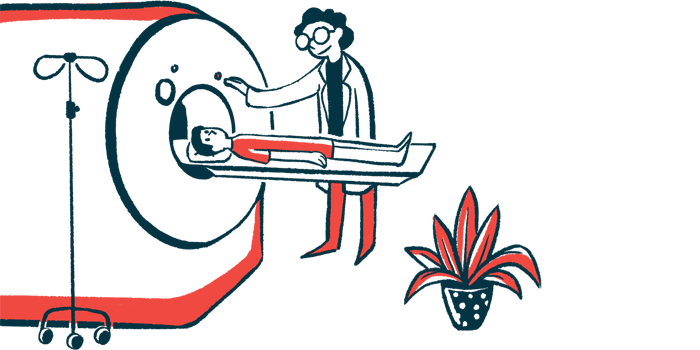 Nearly all participants in the SPARK clinical trial had evidence of abnormal dopamine activity on a brain scan known as DaT-SPECT, for dopamine transporter single-photon emission computed tomography, according to a new study.
Thus, these results suggest that DaT-SPECT — sometimes used as a biomarker in recruiting participants for clinical studies — might not be needed to identify appropriate patients for future trials in Parkinson's disease, the researchers said.
"We suggest that decisions regarding the value and cost-effectiveness of DaT-SPECT as an enrichment biomarker in future PD [Parkinson's disease] trials be weighed carefully with other factors that may serve to enrich the study population related to site expertise, nature of the participant recruitment pool, disease stage, and level of trial oversight," the scientists wrote.
The study, "Evaluating dopamine transporter imaging as an enrichment biomarker in a phase 2 Parkinson's disease trial," was published in BMC Neurology. It was funded by the pharmaceutical company Biogen.
Parkinson's is caused by abnormalities in dopamine signaling in the brain. DaT-SPECT is an imaging technique that uses X-rays and an injected dye to visualize dopamine activity in the brain. It is considered helpful in diagnosing Parkinson's — particularly for differentiating between true Parkinson's disease, and other conditions that may result in Parkinson's-like symptoms.
People with non-Parkinson's conditions typically have scans without evidence of dopaminergic deficit — dubbed SWEDD — upon DaT-SPECT imaging.
Theoretically, people with SWEDD are less likely to benefit from therapies designed for Parkinson's. As such, DaT-SPECT may be useful as an enrichment biomarker for clinical trials, helping to identify the most appropriate patients, especially in people with early disease where misdiagnoses are more common.
However, using DaT-SPECT in large clinical trials has substantial costs in terms of time and resources, in addition to the risk to patients of X-ray exposures during imaging.
SPARK (NCT03318523) was a Phase 2 trial that Biogen sponsored to test its investigational Parkinson's therapy cinpanemab (BIIB054), which has since been discontinued. An international team of scientists analyzed DaT-SPECT data from participants enrolled in the SPARK trial to calculate the rate of SWEDD.
"In an effort to provide additional insight into the value of DaT-SPECT as an enrichment biomarker in early PD clinical trials, this report evaluated the incidence of SWEDDs in a large, multisite, interventional clinical trial," the scientists wrote.
In total, the DaT-SPECT scans of 398 patients, taken at 77 sites, were analyzed. The majority of patients were male (70.5%) and white (90.7%). The average age at enrollment was 60, and the average time living with Parkinson's symptoms was just under two years.
Of the 398 scans, 383 showed abnormalities in dopamine signaling, while the remaining 15 appeared normal. Thus, the SWEDD rate was 3.8%.
The researchers said that this rate is "significantly lower than rates typically observed in several large multicenter studies with similar PD populations," which have ranged as high as 15%.
The team noted several possible explanations for this; for example, they suggested that investigators in the SPARK trial have likely had a lot of experience working with Parkinson's, which may have allowed them to more effectively recruit patients who were likely to meet eligibility criteria.
They also noted that, since DaT-SPECT is used diagnostically in clinical practice, for some participants the imaging of dopamine irregularities to participate in SPARK may have been "merely confirmatory."
"The result supports the view that experienced movement disorder specialists serving as principal investigators in this clinical trial were particularly adept in identifying individuals with early-stage PD via clinical assessment alone," the researchers concluded.
"Thus, when considering the radiation risks, imaging costs, and operational burden, the added value of DaT-SPECT as an enrichment marker in the present trial was relatively small," they wrote.
These findings also suggest that DaT-SPECT should not be a requirement for patients to get access to treatment, the team said.
"A requirement for DaT-SPECT confirmation prior to clinical treatment in routine practice would add unnecessary expense in the vast majority of cases and limit access for patients who could potentially benefit from a hypothetical approved therapy," the researchers wrote.
A limitation of this study, the researchers said, was that they only looked at DaT-SPECT data from when participants first entered the SPARK study. As such, it's possible that some individuals with SWEDD may have had apparent dopamine abnormalities later on, that just weren't readily visible yet.
"Repeat imaging would be needed to confirm that the low rate of abnormal imaging predicts a corresponding low rate of cases with no progression of [dopamine] deficit over time," they wrote.