Nordic Walking Can Help Patients in Gaining More Efficient Gait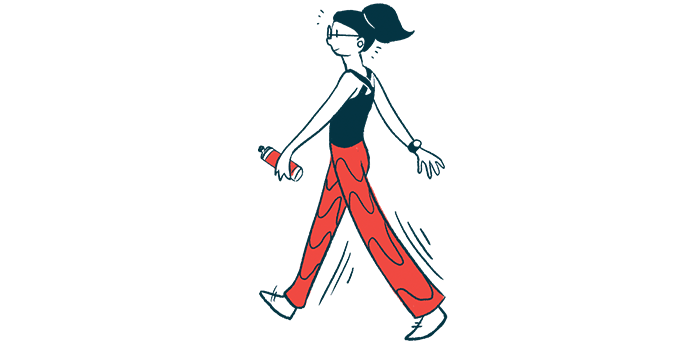 Because people with Parkinson's disease tend to take shorter steps and move more slowly, they get less of a "pendulum-like" effect helping their movements, which makes their gait less efficient and ultimately uses more energy, a small study suggests.
Its findings also indicate that Nordic walking — walking with the use of poles, similar to ski poles — can help Parkinson's patients maintain a more energy-efficient gait.
The study, "Biomechanical responses of Nordic walking in people with Parkinson's disease," was published in the Scandinavian Journal of Medicine & Science in Sports.
A team of scientists in Brazil conducted detailed gait analyses of people with Parkinson's walking at different speeds, with or without Nordic walking poles.
According to the researchers, Nordic walking "seems to be an effective, accessible, and safe strategy" to help patients with walking difficulties. However, relatively little is understood about the mechanics of how walking with poles might be beneficial.
Their analysis included 11 Parkinson's patients, six men and five women, with an average age of 65.6 and relatively mild symptoms. For comparison, the study also included nine similarly aged adults without Parkinson's.
Analyses showed that the Parkinson's patients took markedly shorter steps, both while Nordic walking and while free walking.
Additionally, when Nordic walking was compared to free walking, "the pendulum-like energy recovery was increased in the Parkinson group … while external mechanical work remained similar," the researchers reported.
When you walk, the repetitive movements of your steps create a back-and-forth momentum, similar to a pendulum, which helps to decrease the amount of energy needed for walking. Put another way, it's more energy-efficient to walk 10 steps consecutively, than to take 10 steps stopping with each step, because your momentum helps propel you along.
In essence, the researchers found that the different gait patterns in Parkinson's patients makes their steps less efficient, and Nordic walking helps to correct this by increasing that "pendulum-like" momentum.
"Collectively, our study indicated that the greater metabolic cost of Parkinson's in FW [free walking] is, at least partially, explained by the impaired pendulum-like energy recovery due to the slow speed commonly used by the people with Parkinson's disease," the scientists concluded.
Nordic walking "can be a compelling strategy for rehabilitation because of its potential for improving functional mobility, increasing pendulum-like mechanism in Parkinson's disease," they added.