Exablate Neuro for Advanced Motor Symptoms Now Offered in Maryland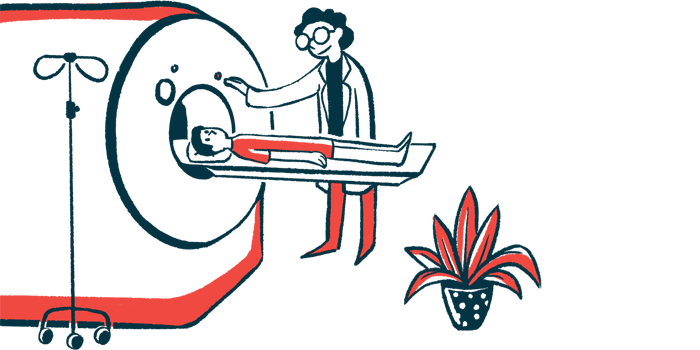 Exablate Neuro, a non-invasive ultrasound treatment of motor symptoms in advanced Parkinson's patients, is now available at the University of Maryland Medical Center, part of the school that led a pivotal trial of the technology.
Based on trial findings, U.S. Food and Drug Administration (FDA) approval of the Insightec device was extended in November to treat moderate-to-severe motor complications, such as tremors, stiffness and dyskinesia (involuntary movement), in advanced disease patients who fail to respond to standard Parkinson's therapies.
Exablate Neuro has been approved since 2016 in the U.S. to treat essential tremor in people who do not respond to standard therapies and since 2018 for tremor-dominant Parkinson's.
The most recent approval was based on findings in the randomized and double-blind clinical trial (NCT03319485), conducted at sites that included the University of Maryland. This study assessed the safety and effectiveness of magnetic resonance imaging (MRI)-guided focused ultrasound delivered to the brain via the Exablate Neuro device.
Its use allows for precision MRI ultrasound targeting to gradually remove damaged tissue in the globus pallidus, a deep-brain region that helps to control voluntary movement.
MRI imaging creates a temperature map of the brain, providing a real-time view of the area for physicians to target with ultrasonic energy or sound waves. Doctors then heighten these energy levels to heat and remove the disease-affected tissue.
Patients are awake and can provide feedback for adjustments during the procedure, which requires no surgical incisions, anesthesia, or brain implants. The non-invasive nature of Exablate Neuro is thought to present a lower risk of infection than deep brain stimulation, which requires surgery to implant a device that treats motor symptoms.
"Focused ultrasound has less ominous side effects for patients since there's no risk of infection or damage to blood vessels from the electrodes," Howard Eisenberg, MD, a neurosurgeon at the University of Maryland School of Medicine and the pivotal trial's principal investigator, said in a press release.
"Presently, it can only be used to treat one side of the brain, so it may [be] more appropriate for patients with symptoms predominantly on one side," Eisenberg added. "However, research into bilateral focused ultrasound is ongoing and shows promising results."
In an earlier pilot study (NCT02263885) published in the Journal of Neurosurgery, Eisenberg and his team tested the device on 20 Parkinson's patients. The scientists reported that most experienced a "clinically meaningful" improvement in motor symptoms that lasted through the study's 12 months. A worsening of symptoms was evident in one of these 20 patients three months after treatment, they noted. No serious side effects related to treatment were reported.
"We have had great experience using this focused ultrasound technique in clinical trials and can now offer this less-invasive treatment option to those with Parkinson's symptoms," said Paul Fishman, MD, PhD, a neurology professor at the medical school and a study co-author.
Fishman is helping to develop plans for a clinical trial using the device on both sides of a patient's brain, the university's release stated.