A Scientific Model of Sanctuary Helps Me to Overcome Resistance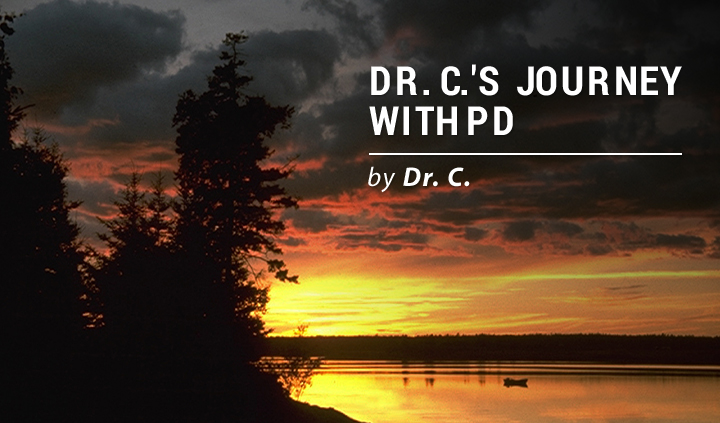 Each time I seek sanctuary, I face resistance. But fortunately, I've found a model of sanctuary that helps me to overcome that resistance.
The other day, I watched a lecture by cognitive neuroscientist Indre Viskontas, which was part of the video series "Brain Myths Exploded." She spoke about the brain as having a continuous level of background noise, and conscious attention is given only to those stimuli that can break through that noise. The idea resonates with my theory of how a quiet mind can affect pain management. I hadn't painted my brain model that way before, but I like the new colors.
Since my discovery of that concept, the signal-to-noise ratio idea crawled its way through my neural web of interwoven knowledge of various types of attention and their application to chronic disease recovery. We can link the practice of using sanctuary to promote well-being to the method of redirecting attention, including shifting perspective. Parkinson's disease affects brain areas that are responsible for moderating emotions and attention and that also deal with stress and overlearned motor sequences.
I am less troubled by these chronic disease issues when sanctuary is in my life. Following is a model of how sanctuary works:
The model's foundation comprises a set of assumptions that we agree to be true:
It's alive!: The brain generates electrical and chemical energy and is either "on" or "off." The latter implies brain death.
Brain specialization: Particular areas of the brain are responsible for specific functions, such as motor memory, pain awareness, sensory input, and motor control.
Use it or lose it: Use or nonuse of the brain correlates with neural branching or snipping. More branches correspond with improved functioning of that brain area and better communication with other brain areas. The more you use it, the easier it is to use. If you don't use it, then it's hard to overcome the resistance.
Consciousness is attention to signals above the noise: The brain is continually processing neurochemical signals that create a level of internal background noise — much of it subconscious. We attend to the signals we deem to be the most important.
The main body of the model is built on top of the foundation and provides some understanding of how sanctuary works to promote lasting changes in well-being. This part of the model includes:
Conscious perception is unfixed. The level at which signals exceed noise and become conscious perception is not set. The point at which we are aware of the stimuli coming into our brain changes based on the demands of the situation and our experiences with altered mental states — including lucid dreaming and mystic practices like deep meditation. At times, we are hyper-alert and time seems to slow down.
Perception of "noise" is changeable. The behavior of the "noise" can be altered through meditative practices. Instead of standing in an ocean with raging waves of noise, we can be dwelling in still waters. Changing the way that we hear noise alters the way that we perceive life.
Threshold tolerance levels can be altered. A signal threshold tolerance exists, which when exceeded, will result in dysregulated emotions. Meditative practices can increase threshold levels, and unhealthy practices can lead to a lower threshold tolerance.
The final piece of the scientific model of sanctuary is the practice of early detection. By using sanctuary to provide an early warning, we can avoid the consequences of dysregulated emotions. The development of an early warning system has a significant impact on wellness. The sooner I can detect an abnormal increase in signal intensity — pushing me over the top and leading to the possibility of my spinning out of control — the more likely my success at controlling the threshold will be.
Sanctuary works because it supports my internal early detection system. This happens because of shifts in attention, perception, and possibility of change. Shifting into the "between" is a new way of seeing old problems or models.
The three most important steps I can take to manage my chronic disease are:
Have the best medical team in place.
Exercise, sleep, and eat well.
Practice using sanctuary in combination with a wellness map.
***
Note: Parkinson's News Today is strictly a news and information website about the disease. It does not provide medical advice, diagnosis or treatment. This content is not intended to be a substitute for professional medical advice, diagnosis, or treatment. Always seek the advice of your physician or another qualified health provider with any questions you may have regarding a medical condition. Never disregard professional medical advice or delay in seeking it because of something you have read on this website. The opinions expressed in this column are not those of Parkinson's News Today or its parent company, BioNews Services, and are intended to spark discussion about issues pertaining to Parkinson's disease.