Frustrated and Angry? It's Not People, It's Parkinson's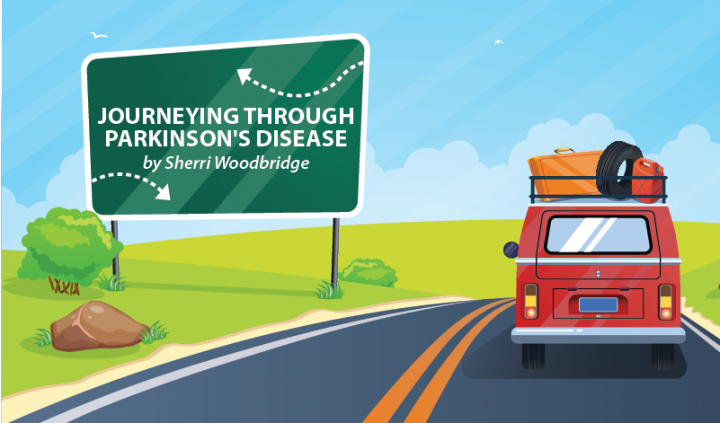 I get angry if he does and frustrated when he doesn't. "He" is my husband.
I am getting rather self-conscious about going out in public. Sometimes, I feel like people who don't know me perceive me as being a little drunk because I'm off balance when I walk. 
Other times, I feel people view me as ignorant because I'm unable to finish some of my sentences or I lose my train of thought. That's where he — my husband — comes into play. When we are out in public, I sometimes get angry when he finishes my sentences for me, and at other times, I get frustrated when he doesn't.
He can't read my mind, so he won't always know when I want him to step up and help me out or when I want him to let me communicate on my own. 
The other day, someone asked me an important question. I got so flustered over my response that I stewed over it for two days.
When I saw the person again, my husband was there. I posed the question to him so she could get a clearer, more logical answer. Then I stewed over whether I should have done that. Just as I had anticipated, however, he answered it with knowledge, wisdom, logic, and clarity. I find that harder to do at times with this scatterbrained kind of disease, and it makes me want to cry.
I have never considered myself a genius, but I have never thought I was stupid, either — until now.
I feel that's how others perceive me, probably because I tend to view myself that way nowadays.
For example, when I am out for a walk with my neighbor and I am sharing something with her, poof! Just like that, the thought is gone. Or my words feel jumbled and sticky. Or I trip over the silliest things, like my own two feet, and I end up breaking my toe.  
Yes, that was a recent occurrence. 
In my own home. 
In front of all my grandchildren. 
It's frustrating, and I do grieve the things I've lost to this disease — not just speech and balance, but all the things that were mine to use and refine and are now gone or on their way out.  
With all that said, I try to treasure what is still here and make the most of it because I know it could be much, much worse. I also know that if I want to finish my own sentences and feel I am not always given that opportunity, I should actually be grateful there is someone who cares enough to not leave me standing and looking foolish. All I have to do is look at him with "Help" written in my expression, and he comes to my rescue. My hero.
I get angry and frustrated sometimes. I have to remember that Parkinson's is the cause, not people.
***
Note: Parkinson's News Today is strictly a news and information website about the disease. It does not provide medical advice, diagnosis or treatment. This content is not intended to be a substitute for professional medical advice, diagnosis, or treatment. Always seek the advice of your physician or another qualified health provider with any questions you may have regarding a medical condition. Never disregard professional medical advice or delay in seeking it because of something you have read on this website. The opinions expressed in this column are not those of Parkinson's News Today or its parent company, BioNews Services, and are intended to spark discussion about issues pertaining to Parkinson's disease.