Keeping a Positive Attitude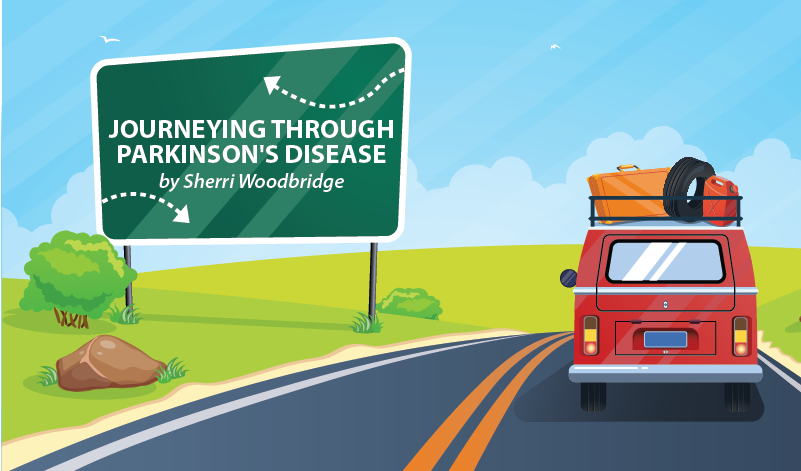 Last week, I wrote about some of the fears people with Parkinson's disease point to when they discuss what scares them about their future. Some recommendations focused on staying hopeful and having a positive attitude. Another piece of advice in maintaining a positive outlook was to never give up.
They are easy words to say. They are not so easy to hear, especially if you are someone living with a chronic illness. If you are someone who lives with pain day-to-day, has symptoms that the rest of the world can see but you can't necessarily explain and they may never understand, keep a positive attitude? Impossible!
Or is it?
When we get down or depressed, the last thing we need is more bad news. Often my husband will share what he is reading in the news. Often I have told him thanks, but no thanks.
When I was little, there was a serial killer loose on the streets of San Francisco. At the time, I lived in Los Angeles. But, as a little girl, I was afraid. Every night I went to bed wondering how long it would take the killer to get from there to here, scared he would climb through my bedroom window. The days were saturated with news of him and what he was doing. Every night, I feared the worst.
I couldn't do anything to stop the chatter of bad news then, but now I have a choice and I choose not to listen. I don't get along well with bad news and I can become anxious.
Keep the negative influences to a minimum, whatever they are. People who complain all the time are extremely draining. Self-criticism is defeating and, as a person with a chronic illness, you should be about building yourself up in every possible way.
When I was going through an especially hard time in my life, I would take walks, bring my iPod and listen to uplifting music. As I walked, I would sing along and even had someone stop me once and ask what I was listening to because I looked so happy. After an earphone in an ear and a song or two I had on my iPod, I heard a vow to start doing the same thing. The thing to remember is dark music won't work. It has to be able to make you look up and look out to see that there is more to life than the stuff that seems so terribly bad right now.
Many may think we are weak if we need someone to lean on. But do those people realize it takes a very strong person, in their weakness, to admit need, and for someone to lean on, to care, to be there in times of heartache and need? If you are feeling alone, it could be all you need is to pick up the phone and rekindle a friendship or mend a familial relationship. It could be someone is waiting for you to say, "I need you."
Read the Psalms or other verses.
Write your favorite, uplifting verses on note cards and keep them in your pockets. When you're out during the day, read them. Some of my favorites are:
I am still confident of this: I will see the goodness of the Lord in the land of the living. Wait for the LORD; be strong and take heart and wait for the LORD. Psalm 27:13, 14
Be still, and know that I am God. … Psalm 46:10
"For I know that plans I have for you," declares the Lord, "plans to prosper you and not harm you, plans to give you hope and a future." Jeremiah 29:11
 … Be strong and courageous. Do not be terrified; do not be discouraged, for the LORD your God will be with you wherever you go. Joshua 1:9
 ... We know that suffering produces perseverance; perseverance, character; character, hope. And hope does not disappoint us. … Romans 5:3-5
Be joyful always; pray continually; give thanks in all circumstances. … 1 Thessalonians 5:16-18 (Always remember, there is a big difference between being joyful [an attitude of the heart] and being happy [a fleeting feeling].
Do something. Anything. Just do something.
Do something for someone else. It will make you feel better when you get your thoughts off of all that's getting you down and onto someone else and easing their pain.
Stay hopeful. Some say laughter is the best medicine. I would tend to agree up until about four years ago, when I heard a neurologist open up her speech with: "The best medicine? HOPE." Seriously, she nailed it. Every day gives us a new reason to hope. Keep hoping.
Keep your mind on the here and now. Not the past. Not the future. Where the living is. For among the living is the best place to be.
***
Note: Parkinson's News Today is strictly a news and information website about the disease. It does not provide medical advice, diagnosis or treatment. This content is not intended to be a substitute for professional medical advice, diagnosis, or treatment. Always seek the advice of your physician or another qualified health provider with any questions you may have regarding a medical condition. Never disregard professional medical advice or delay in seeking it because of something you have read on this website. The opinions expressed in this column are not those of Parkinson's News Today or its parent company, BioNews Services, and are intended to spark discussion about issues pertaining to Parkinson's Disease.