Walking Through the Valley of Shadows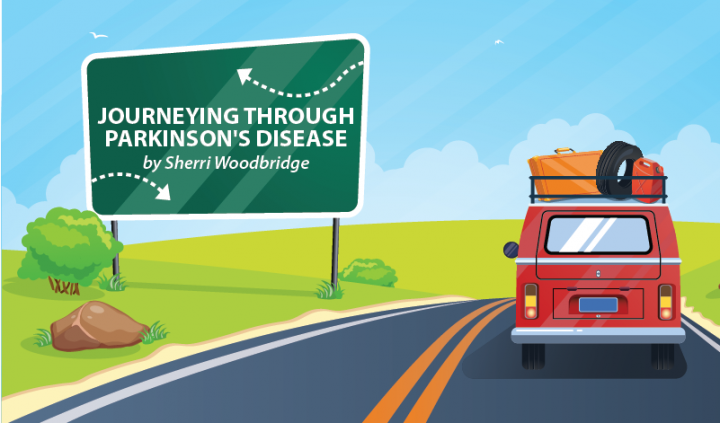 One of my grandson's favorite things to do when we go for a walk is to follow his shadow or to chase mine. It brings out the giggles in him. One of the hardest things for those who struggle with a chronic illness such as Parkinson's disease is to watch oneself become less of the person one feels they once were. A "shadow of your former self," some say.
One of the greatest promises God ever gave to us was that He would be there with us when we walked through the valleys of the shadow of death. Those places where we would feel as if we can't take another step. The places where we feel we are not going to recover from this long and difficult journey. The places where life's ups and downs have us stuck in "down" mode and we aren't sure if we can or ever will recover.
A shadow occurs when something comes between light and a surface. So, for instance, when you are outdoors, your shadow occurs when you are between the sunlight and the sidewalk. Shadows occur in the valleys of creation by the mountains that are erected around us. The valleys are low and the mountaintops can seem so high. They can seem agonizingly overwhelming. We can feel as if they are closing in on us, attempting to leave us in utter darkness.
"Yea, though I walk through the valley of the shadow of death, I will fear no evil." – Psalm 23:4
King David wrote these words over 3,000 years ago. He personally knew what running from the shadow of death felt like. He ran from shadows for years as King Saul sought his life. He hid from death while he waited to receive the king's crown, as God had promised him. He fought against death when he boldly stepped forth and took down Goliath when everyone else stepped back, shaking in their boots. David walked through the valley of the shadow of death where he learned to fear no evil. He had learned to not be afraid in the valleys of his childhood where God trained him to conquer the hard stuff. The wild stuff. God trained David to walk through the valleys so he could learn to trust his Shepherd.
He knew God's rod and staff were used for the very same purposes that he used them for his own sheep: to guard and protect, comfort and save. Because of his past experiences, he was able to walk through the present, while being guided by the mighty hands of his God. He had learned to trust God through the valleys. The valleys of hard places. The valleys of pain and sorrow. The valleys of shadows where death drew near.
Sometimes it's hard to giggle like a child when the shadows we see and deal with are shadows of whom we are presently, but we must remember: They are merely shadows. Perhaps we once did skip down the sidewalk in glee where now we may be rolling in a wheelchair or steadying ourselves with a cane. But the light still shines, no matter how dark and gloomy life may appear around us. Something may have stepped in behind us to cause shadows around us — pain, loss of control, sorrow — but there is still light before us, and as long as we keep following that light and moving forward, we will not only be able to walk through the valleys ahead but also climb to the mountaintops as well.
***
Note: Parkinson's News Today is strictly a news and information website about the disease. It does not provide medical advice, diagnosis or treatment. This content is not intended to be a substitute for professional medical advice, diagnosis, or treatment. Always seek the advice of your physician or another qualified health provider with any questions you may have regarding a medical condition. Never disregard professional medical advice or delay in seeking it because of something you have read on this website. The opinions expressed in this column are not those of Parkinson's News Today or its parent company, BioNews Services, and are intended to spark discussion about issues pertaining to Parkinson's disease.