I Have Parkinson's Disease and This Is How It Affects Me (Part 1)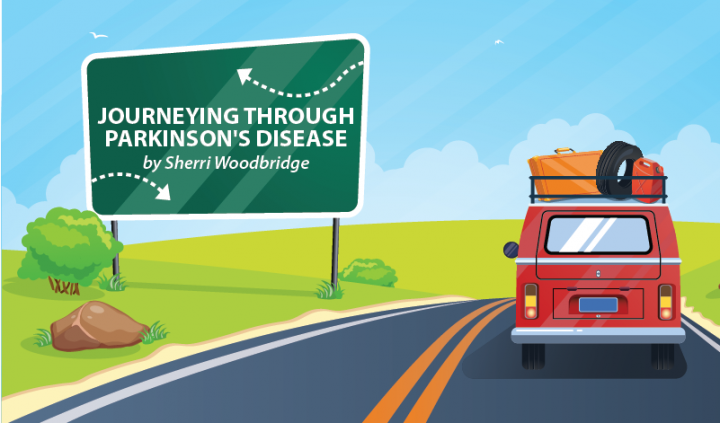 First in a series.
You have Parkinson's disease (PD). If someone were to observe you, what would they see (external symptoms/issues) that is attributed to having Parkinson's disease? What wouldn't they see (internal symptoms/issues) that is attributed to having this disease?
This is not just my story. This is the story of all those who live with Parkinson's disease, to bring to light what it can be like daily for those who live with this debilitating disease.
I have Parkinson's disease …
You might see me shake, or show a tremor in one or more of my limbs. You might not see me shake at all. We're all different as People with Parkinson's (PWP). We all wear this disease so very differently.
For example, a fellow PDer has one leg that drags as they walk, while I don't have that problem so much. Instead, I tend to shuffle, giving you cause to think I resemble a penguin as I saunter down the pathway. Some can't saunter and some can't shuffle. They feel like cement wraps their feet, and they are walking in loose sand along the shoreline.
If you're walking with me, you may notice I stop and then struggle to get going again. It feels as if my feet are glued to the floor. I mentally have to retrace my steps to get going once more. But you won't see my war to walk because it takes place on the inside of me. The me you can't see.
Sometimes I win and keep walking. Sometimes the little monster inside of me (PD) wins, and I stop. Just about then, I start sweating. You start worrying because the beads of perspiration are running down my face like an ice cream cone on a record hot day. Don't panic. I'm not having a heart attack, as some have voiced. It's called hyperhidrosis and it is just another blessing of having Parkinson's disease.
I may not appear to have Parkinson's by your definition, and to that, I might inquire, "What should Parkinson's disease look like?" While you are busy formulating an answer in your head, this disease is busy ravaging my body in ways you cannot understand, although you may try.
Someone who has PD has likened it to wearing a lead bodysuit. You have the will to get where you're going or do what you want to do, but your body is determined to get you there by the slowest means possible (if at all), while exerting the most energy you have. It's as if your life has switched to slow motion and everything takes so much longer. You expect to look in the mirror and see the likeness of a 70-year-old, yet you're only 42. Life can be hard.
When I first began to suspect something was going on inside of me, I felt like my insides were shaking all the time. There most likely are as many people with Parkinson's who experience external tremors as there are who experience internal tremors. You can have one, both, or neither, and still have … Parkinson's disease. Most people don't know about internal tremors, as you can't see them.
Some other symptoms of PD you will never see are cognitive issues: failing memory, anxiety, feelings of apathy, and depression, to name a few. Some of these issues don't occur because we are sad and blue about our predicament, but more than likely, they are a symptom of the disease itself, not a reaction of how we are handling it.
Look for the second column in this series at Parkinson's News Today on Wednesday.
***
Note: Parkinson's News Today is strictly a news and information website about the disease. It does not provide medical advice, diagnosis or treatment. This content is not intended to be a substitute for professional medical advice, diagnosis, or treatment. Always seek the advice of your physician or another qualified health provider with any questions you may have regarding a medical condition. Never disregard professional medical advice or delay in seeking it because of something you have read on this website. The opinions expressed in this column are not those of Parkinson's News Today or its parent company, BioNews Services, and are intended to spark discussion about issues pertaining to Parkinson's disease.