The Journey is a Great Adventure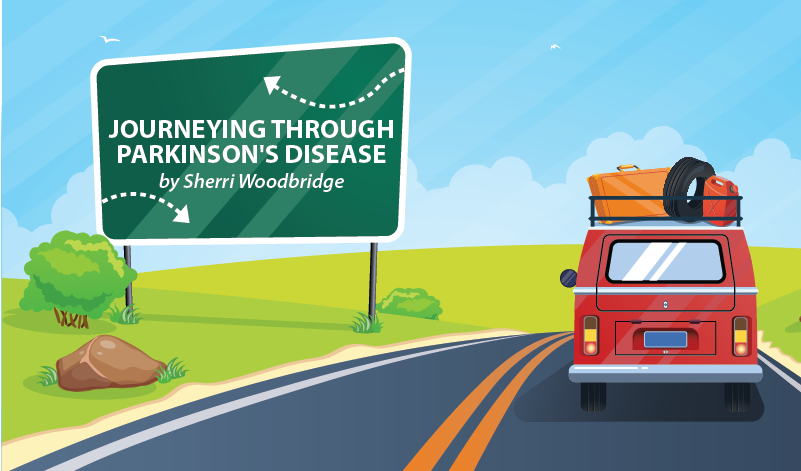 It wasn't irreverent. At least, I didn't think so. He was just a middle-aged dad who appeared to be confined to a wheelchair. He was coming down the aisle of the church at a faster than "normal" speed for a Sunday morning worship service, and it was obvious his young daughter was trying to keep pace with him.
Some may have thought him obnoxious. Disrespectful even. But the only word that crossed my mind, as his daughter followed on his "heels," was brave. Almost suddenly, and without warning, tears ran down my cheeks. And as the song continued playing from the stage, the song that said, "I'm no longer a slave to fear, I am a child of God," I understood the tears.
As I stood there listening to the song and watching the man in the wheelchair, I realized I saw something in him that I wanted so badly to see in myself.
Courage.
This man who came tootling down the aisle in a wheelchair and wearing a bigger-than-life smile had courage. Oh, maybe not yesterday and possibly he might feel defeated tomorrow, but today he was brave because he was living without fear, at least at that moment.
Some may say perhaps he was showing off or even pretending to be superhero-ific as he charged down "the runway." For all I know, he may have been. But the moment when I saw him and watched him take a place at the very front, I defined him as brave. Brave because he wasn't allowing other people's opinions to keep him from experiencing life. Brave because despite whatever held him to that wheelchair, he appeared to be living a life that wasn't going to hold him back from experiencing a full life.
How do you experience life when you are impatiently awaiting the unknown? Something like, oh let's say, Parkinson's disease?
You must decide to no longer be a slave to fear. To not live by fear. To keep hope alive by thinking the best, living your best, expecting the best. And you must do this daily. We really don't know what will happen, or when. There is a cure somewhere out there, of that I am sure. But even if for some reason it doesn't happen in my lifetime, should I give up and stop trying to get the word out? Stop trying to make a difference so that a difference will be made for others? What if it's about everyone else with PD and nothing at all about me? Will I sit in my potential wheelchair and complain through my mumbling? I hope not. I truly hope not.
I want to fight the good fight. Run the right and good race, whatever it may look like.
When I began PJ (my website, Parkinson's Journey) and was trying to come up with a name, I decided on Parkinson's Journey because that's what life is — a journey. And no journey runs a solid straight line from the beginning to the end. It is scattered with potholes and ruts trying to frustrate you, stickers and thorns trying to irritate you, falling boulders trying to take you out, and slow-going traffic trying to keep you from finishing. But also along the way, there are flowers to enjoy, trees to find shelter and shade, freshly paved roadways for a smooth ride, places to stop for cold water and more. We have to expect there will be unexpected turns, detours in our way, times of getting lost and facing unknown fears.
However, we don't have to fear what is to come. Fear holds us back from experiencing the life we have been given and experiencing it with joy. It keeps us in the dark when life was meant to be lived in the light. We don't need a wheelchair to see life from a new perspective. We just need to trust that the journey, although not always smooth, can be an adventure we can learn from, grow through, and most certainly never forget.
***
Note: Parkinson's News Today is strictly a news and information website about the disease. It does not provide medical advice, diagnosis or treatment. This content is not intended to be a substitute for professional medical advice, diagnosis, or treatment. Always seek the advice of your physician or another qualified health provider with any questions you may have regarding a medical condition. Never disregard professional medical advice or delay in seeking it because of something you have read on this website. The opinions expressed in this column are not those of Parkinson's News Today or its parent company, BioNews Services, and are intended to spark discussion about issues pertaining to Parkinson's disease.