I Want to Be a Smooth Stone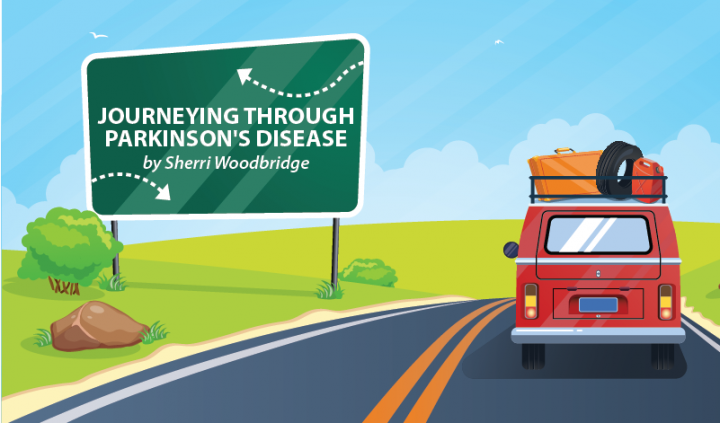 I took a walk over a waterfall the other day. The power of the water rushing beneath me was incredible. So powerful, in fact, that were I to have fallen in, the chances of survival would have been rather slim. I walked up the edge of the river, and there was a peaceful and calm spot where you could skip stones. No rushing water, no rocks rolling around hitting each other below. Just a peaceful, still calm.
I thought of how people are like stones. Often sharp, but being made smooth by the rushing, powerful circumstances and events (like Parkinson's disease) that come passing through in our river of life. Hit by other stones as we tumble downstream, our sharp corners are constantly being chipped away, one by one, until eventually we are made smooth.
A stone doesn't become smooth by sitting in the calm waters. It is made smooth through the constant tumbling of the river, bumped about by other stones along the way.
Many people love to carry a stone in their pocket. A nice, smooth stone. It is often used to relieve stress by rolling it over and over again in your hand. A sharp stone would not even be considered to accomplish the same goal.
The people who are the most comforting and the most encouraging are those who have endured hardships and have been made smooth because of those challenges. Those who vie for the calm waters of life are intent on avoiding the rough. They avoid "opportunities" to have their sharp edges removed and they, like rough, sharp stones, are often not even considered as approachable when comfort is needed. Those are the ones who cannot understand the hardships of others because they like to stay where it's "safe" and avoid testing times at all costs.
I want to be a smooth stone. The kind that has been through the rough waters and has had the rough edges chipped away. The kind that sparkles as someone is walking alone along the sandy shore. Like sea glass. People who collect sea glass throw the sharp-edged finds away to avoid others being injured by it. They collect the pieces that are smooth and have a glow about them. I want to be that kind of stone people reach for and one who brings comfort to others because of what I have been through.
Yes, the calm waters are peaceful, restful, and inviting. But you don't really appreciate them unless you've been through the rough ones. The waters of grief, illness, failed relationships, addictions, and more. It is there in the rough waters, the chipping away at the sharp edges, where we are made just a little bit smoother, a little bit more understanding, and able to offer a little bit more comfort.
***
Note: Parkinson's News Today is strictly a news and information website about the disease. It does not provide medical advice, diagnosis or treatment. This content is not intended to be a substitute for professional medical advice, diagnosis, or treatment. Always seek the advice of your physician or another qualified health provider with any questions you may have regarding a medical condition. Never disregard professional medical advice or delay in seeking it because of something you have read on this website. The opinions expressed in this column are not those of Parkinson's News Today or its parent company, BioNews Services, and are intended to spark discussion about issues pertaining to Parkinson's disease.