Disabled Body in an Able-bodied Restaurant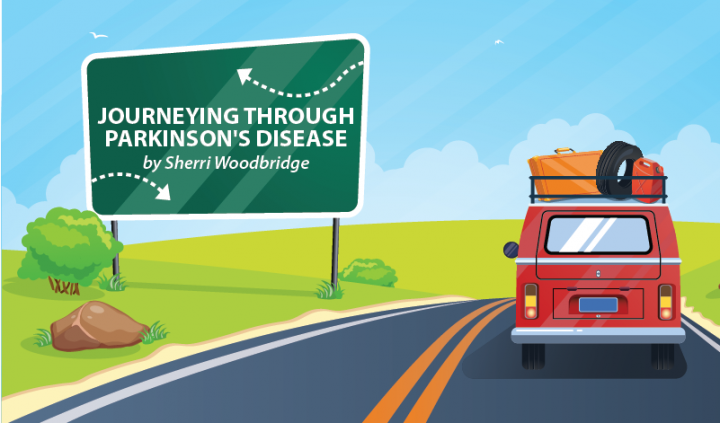 My husband and I recently tried out a new restaurant in town (new to us) for lunch to celebrate our 38th wedding anniversary. We decided to sit outside as the weather was nice and it wasn't smoldering hot. That day, anyhow.
We pulled out the cast-iron chairs that had been scooted under the table and sat down. Sort of. The legs scraped against the concrete below and would barely budge for me. My ability to pull the chair in was nil. My husband tried to help but was unable to assist me. I told him it was OK and I was close enough to the table.
I unwrapped my napkin that held my silverware and put it on my lap. I put my silverware back on the criss-cross steel grate tabletop. Eventually, we placed our order and soon thereafter were served our salad. We said grace and I reached over to pick up my fork, having no luck since my fingers could not grasp it without a solid table top to brace my fingers against. After several attempts, my husband offered to help, and I finally conceded. I was hungry, after all.
We ate our scrumptious lunch and then headed home, with only two slight spills of Alfredo sauce down the front of my shirt from having to sit so far from the table. Now I was able to clearly see, experience, and fully understand another reason why people with Parkinson's disease don't like to go out for meals. In addition to the possibility of choking on your food in public, excessively drooling, and not being able to hold your drinking cup or utensils adequately (without bringing attention to yourself or those with you), grated tables and cast-iron chairs that won't scoot against concrete floors add another obstacle people with Parkinson's must fight. And that includes not only people with PD, but also other chronic illnesses or disabilities others have to live with daily.
Wouldn't it be great if, when designing a restaurant, the builders, architects, owners, and designers of establishments would consider those who are disabled as a forethought and not necessarily an afterthought?
I was in another restaurant this past week with my son and his family and needed to use the restroom. I waited as long as I could, as I knew I would have a hard time getting to it with the restaurant being wall-to-wall with tables and chairs, and each of those chairs filled up and pushed out into what little aisles there were. I only tripped once and knocked someone's ponytail to the side while trying to get by, walking sideways to get there.
I wonder how many people with disabilities have stopped trying to have a nice meal out because the restaurant they would like to patronize doesn't take into consideration the needs of a disabled or handicapped person? Having a wheelchair sticker on the end of one or two tables is a start, but in most cases, that may not be enough anymore.
As a person with Parkinson's disease, have you had issues when eating out? What were they and how did you deal with them?
***
Note: Parkinson's News Today is strictly a news and information website about the disease. It does not provide medical advice, diagnosis or treatment. This content is not intended to be a substitute for professional medical advice, diagnosis, or treatment. Always seek the advice of your physician or another qualified health provider with any questions you may have regarding a medical condition. Never disregard professional medical advice or delay in seeking it because of something you have read on this website. The opinions expressed in this column are not those of Parkinson's News Today or its parent company, BioNews Services, and are intended to spark discussion about issues pertaining to Parkinson's disease.