A Tale of a Beating Heart and the Will to Move Forward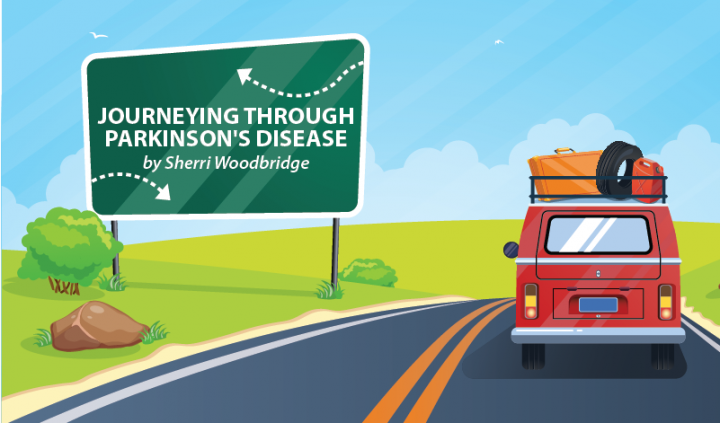 With Parkinson's disease, a progressive nervous system disorder that affects movement, some days you need a little nudge to keep going. Other days require a huge push.
I recently watched a video that told the story of a pastor who asks his friend, a heart surgeon, if he can observe one of his heart surgeries. According to Randy Philips of the musical group Philips, Craig & Dean, the physician makes the arrangements. The pastor watches as the patient's chest is cut open, the damaged heart is repaired, and is returned to the chest cavity.
The heart is massaged, and doctors wait for it to begin working. But nothing happens. The heart refuses to beat. So the heart surgeon massages the heart again. 
Still nothing.
After a few more attempts to restart the heart, it still refuses to beat.
Finally, the heart surgeon does something unconventional. He removes his mask, kneels beside his patient, and speaks to her.
"Mrs. Johnson, this is your surgeon. The operation went perfectly. Your heart has been repaired. Now tell your heart to beat again."
A few seconds and her heart begins beating. It needed a little "nudge."
Just like the patient on the operating table, our hearts need a little nudge — sometimes a big push — to get going again after we receive a diagnosis of Parkinson's disease (or any chronic illness, for that matter).
We want to get better, but our fortitude is failing and we slowly begin to give up. We don't want to isolate ourselves from others, but we can feel so self-conscious when we are out in public dealing with tremors, dyskinesia, drooling, and choking. 
We want to get up, go out, and exercise, but our legs freeze on us before we even get to the front door. Eventually, we quit trying.
Sometimes life with Parkinson's can be so hard.
Former "American Idol" contestant Danny Gokey was inspired by the story of the pastor and the heart surgeon to write his hit single, "Tell Your Heart to Beat Again." The beginning of the song illustrates how we can feel broken and shattered, as if we will never get back to the life we once knew or the person we used to be. It's about the person who is traveling on a new and unfamiliar journey.
We may have to tell our heart to beat again, like the doctor told his patient. It may be time to say goodbye to the past, look forward, and move in the new direction we have been given. It may not be the life you once knew or dreamed of, but we've been set on a new journey — and it might even be a better one.
***
Note: Parkinson's News Today is strictly a news and information website about the disease. It does not provide medical advice, diagnosis, or treatment. This content is not intended to be a substitute for professional medical advice, diagnosis, or treatment. Always seek the advice of your physician or another qualified health provider with any questions you may have regarding a medical condition. Never disregard professional medical advice or delay in seeking it because of something you have read on this website. The opinions expressed in this column are not those of Parkinson's News Today or its parent company, BioNews Services, and are intended to spark discussion about issues pertaining to Parkinson's disease.