Giving Thanks When Life Hands You a Cane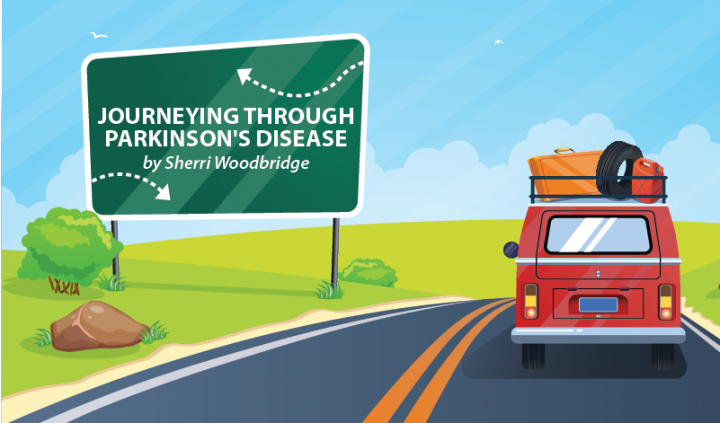 My appointment was scheduled for 9 a.m. It was 9:32 when the nurse called my name. I arose from where I had been warming a seat cushion and followed her down the hall to the weigh station, where in keeping with tradition, I handed off my purse to my husband before stepping onto the scale.
I pretended not to care about the numbers, but I was secretly elated that they were the same as those on the scale at home and heading in the right direction — down.
The nurse led us down another hall and into a different room. We entered, I took a seat, and she began taking my blood pressure. 
After a brief interval, the deep brain stimulation (DBS) tech entered the room, followed shortly thereafter by my neurologist. 
I answered all of their riveting questions, and then they asked if I had any issues to discuss with them.
Well, let's see …
I pulled out my list, written in pencil, and read off my concerns. I had about six — or maybe more because you're not supposed to go to the doctor without a list of questions. 
They homed in on one of my notes: "I feel off balance, like I'm falling forward."
"What do you mean by 'falling forward?'" my neurologist asked.
I looked at my husband, then at the DBS tech, who exchanged glances with the neurologist before saying, "You feel as if gravity is pulling you by the shirt collar."
Exactly!
"Yes," I said, shaking my head — but not shaking my head because that's a Parkinson's symptom. You don't move the things you once could move in the way you used to be able to move them.
Then the blow
The neurologist contemplated my answer before responding with, "It may be time to get a cane."
Whaaaat?
Though I knew this day was coming, the suggestion was a blow. Avoiding eye contact with everyone in the room, I bowed my head, felt my eyes fill with tears, and swallowed hard. I wasn't even 60 years old.
Wait! I have had this disease for a suspected 25 years or more and been diagnosed for 15 years, and people still say to me, "You look great."
Of course, I'm unsure about their expectations of how I should look, what with having Parkinson's disease and all. Perhaps they envision me as a gray-haired woman with a cane?
It doesn't matter. It's all about perspective. I choose to look at life with hope and gratitude. Hope for a beautiful tomorrow, whether tomorrow brings a cure or not. And gratitude that I've made it this far as well as I have, with or without a cane. Now the big question is: What color do I want? And do I need a horn?
***
Note: Parkinson's News Today is strictly a news and information website about the disease. It does not provide medical advice, diagnosis or treatment. This content is not intended to be a substitute for professional medical advice, diagnosis, or treatment. Always seek the advice of your physician or another qualified health provider with any questions you may have regarding a medical condition. Never disregard professional medical advice or delay in seeking it because of something you have read on this website. The opinions expressed in this column are not those of Parkinson's News Today or its parent company, BioNews Services, and are intended to spark discussion about issues pertaining to Parkinson's disease.