Deep Brain Stimulation Surgery No.1 vs. Electro Dad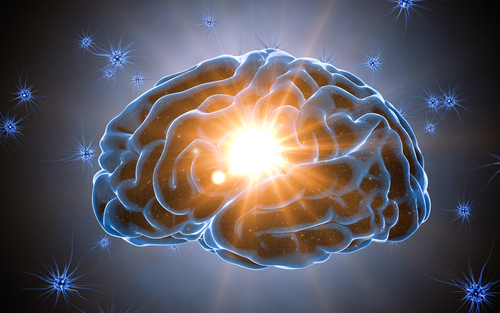 At the top of a Colorado mountain, I realize that my phone has just a single bar of service. I drop to the dusty ground, frantic to contact my dad. He's going into surgery for deep brain stimulation (DBS) today, and I haven't had the chance to tell him how much I love him.
"Dad," I text anxiously, "I'm in the mountains with crappy service until tomorrow, but I just want to tell you that I'm thinking of you. And I love you. And give it hell!"
"Mary Beth, I love you too. Everything is going to be fine." My eyes devour his message, and his words reduce me to a flood of tears.
I'm in the middle of a multiday backpacking trip in the remote San Juan mountains. I hadn't allowed myself to fully consider the surgical risks until this moment. What if something goes wrong? What if the procedure changes my dad? What if I'm not with him for the scary parts?
Suddenly, I feel like I'm the patient. My dad's levelheaded attitude brings me back to earth. He comforts me, assuring me that he's not going anywhere. I'm not ready to face any other possibilities.
He checked into the "brain-slicing motel," as my sister dubbed it, the night before. He'll be rolling into the operating theater at any moment. The idea terrifies me, even though I believe that it's his best option.
What freaks me out the most is that his hair is gone. It makes total sense: You have to shave your hair to operate on your head. But he's always had this big, fluffy head of hair. I've never seen him without it. Something about the change knocks me in the guts, reminding me that this is a big deal.
I handle the discomfort, like I always do, by trudging into the wilderness.
Hours later, my mom sends out a series of messages letting us know that the procedure went well. The surgeon is pleased. He had no brain bleeds. And he can come home as early as tomorrow.
***
The following day, Dad sends me a number of perfect texts. His messages usually contain a few goofy words, but today there are none. I don't know if it's because he's mastered the "voice tool" or if he's experiencing the honeymoon phase. But I take notice.
"What will we call you now?" I joke. "Franken Dad?"
Good-natured as always, he responds: "Yeah, Franken Dad is good. That's pretty cool."
"What about cyborg, Robo Dad, Bionic Dad, Electro Dad?" We giggle, using humor as our weapon.
We talk about his hair growing back in. Will it be entirely gray? He's been rocking the salt-and-pepper look for as long as I can remember.
Dad admits, "My head looks pretty bad. I'll take a picture for you if I can figure out how." One of my siblings manages to snap a photo of Dad's head, sending it to those of us who can't be in Michigan.
My older sister teases him, saying, "It looks like they just zipped you back up." She starts calling him "zipper head." The row of staples stretches from ear to ear, resembling the cold, metal ridges of a zipper.
I send her a line of exclamation points, indicating that I think she's gone too far. She replies that she can't let him feel sorry for himself. Dad laughs.
If the surgery changed him, it's only made him sassier and quicker to laugh. And seemingly happier. You can see the relief written all over my parents' interactions. They flirt. We avert our eyes. This isn't the first time that they've dealt with dangerous medical procedures. They've been here before.
"Electro Dad" gave that surgery hell. He showed us how we should react to adversity — with a levelheaded intensity. And through it all, he was unwilling to forget the importance of laughter. The fear brought us a little closer. And we're feeling grateful to be in each other's lives for another day. We've just touched the tip of the iceberg. Dad faces another surgery and a long road to recovery. But we've reached a milestone.
I am incredibly proud to share my genes with this guy. Maybe one day I'll be as strong as he is.
***
Note: Parkinson's News Today is strictly a news and information website about the disease. It does not provide medical advice, diagnosis or treatment. This content is not intended to be a substitute for professional medical advice, diagnosis, or treatment. Always seek the advice of your physician or another qualified health provider with any questions you may have regarding a medical condition. Never disregard professional medical advice or delay in seeking it because of something you have read on this website. The opinions expressed in this column are not those of Parkinson's News Today or its parent company, BioNews Services, and are intended to spark discussion about issues pertaining to Parkinson's disease.