'Off' Episodes May Affect 1 in 3 Patients Come Bedtime, Trials Find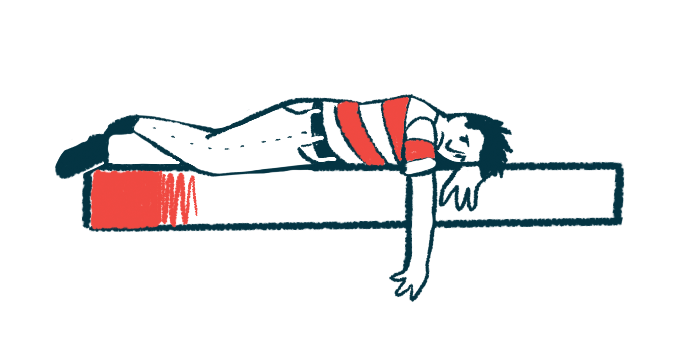 About 1 in 3 Parkinson's disease patients in two Phase 3 trials experienced an "off" episode before going to sleep, and most of those who woke up during the night were in an "off" state upon awakening, researchers reported.
These findings were pulled from a new analysis of data obtained at the start of the Phase 3 BIPARK-1 (NCT01568073) and BIPARK-2 (NCT01227655) clinical trials, which provided the basis for the approval of Ongentys (opicapone). The medicine is used as an add-on to levodopa/carbidopa in Parkinson's patients who are having fluctuations in control of their symptoms.
Fluctuations occur when the response to levodopa wears off, meaning that its effects fade and symptoms re-emerge before the next dose is due. Patients can experience sudden switches between a state of being "on" and able to move, and a state of being "off" and having difficulty moving from place to place.
"Off" episodes also can lead to trouble falling asleep, staying asleep or getting restful sleep, or to falling asleep at unintended times such as during the day.
"Sleep disturbances in individuals with Parkinson's disease can significantly impact health, mood, and quality of life," Eiry W. Roberts, MD, chief medical officer at Neurocrine Biosciences, which sells Ongentys in the U.S., said in a press release.
For the post-hoc analysis, researchers pooled data from 964 patients who had noted in a diary at their trial's start how much time they slept and how many times they woke up during the night. Their mean total amount of sleep was 7.6 hours, and their longest stretch of uninterrupted sleep was 7.2 hours.
Of the 964 people, 332 (34.4%) experienced an "off" episode before going to sleep for a mean duration of 1.8 hours. Of the 158 (16.4%) who woke up during the night, 128 (81.0%) were in an "off" state that lasted a mean of one hour. Their mean number of awakenings was 1.3, and the percent of sleep time spent awake was 15.4%.
"These data provide insight on the impact of OFF episodes and their contribution to sleep disturbances, both in falling asleep and staying asleep," Roberts said.
Findings were shared at this year's SLEEP meeting, recently held in Charlotte, North Carolina. The oral presentation's abstract (No. 0581), "Sleep patterns and 'off'-time in patients with Parkinson's disease and motor fluctuations," was published in the journal Sleep.
The researchers also looked at whether "off" episodes happened as these people woke up in the morning. They found that 898 of a total of 1,005 patients (89.4%) experienced an "off" episode that lasted a mean 1.5 hours upon waking in the morning.
"Reducing 'OFF'-episodes before and during the nighttime may help improve sleep in patients with [Parkinson's disease], in turn potentially improving quality of life and daytime motor performance," the researchers concluded.