Venture Capitalist Launches Foundation, Co-Founds New Biotech to Find Cure for His Parkinson's
Jonathan Silverstein's two decades as a healthcare venture capitalist gave him the solid background he needed to be a success in his career. But it didn't quite prepare him for his diagnosis last year at age 49 with Parkinson's disease with a rare mutation in the GBA gene.
Although overwhelmed by the statistics — there is no cure for Parkinson's and similar neurodegenerative diseases, nor are there treatments to slow its progression — Silverstein refused to give up. He and his wife Natalie established the nonprofit Silverstein Foundation for Parkinson's with GBA this year with $10 million of their own money and $6 million from other donors.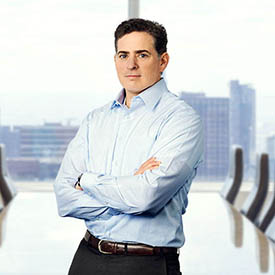 And this week, the Silverstein Foundation, Regenxbio, and OrbiMed — where Silverstein is a general partner and co-head of private equity — announced the launch of Prevail Therapeutics, along with a star-studded research team focused on discovering and developing new therapies for Parkinson's and other neurodegenerative diseases. A particular focus will be the glucocerebrosidase (GBA1) gene mutation, the most common of currently known Parkinson's mutations and a central goal of Silverstein's Foundation.
Prevail's new licensing agreement with Regenxbio is aimed at developing and commercializing gene therapies using its NAV AAV9 vector. Regenxbio's NAV AAV9 vector delivers a healthy gene, placed inside the shell of an adeno-associated virus (AAV), directly to a patient's cells.
"As a leader in gene therapy, we are pleased to collaborate with Prevail in the development of life-changing therapies for patients suffering from serious neurodegenerative diseases for which better treatment options are needed," Ken Mills, president and CEO of Regenxbio, said in a press release.
"We view the formation of Prevail as an important part of our mission to enable the use of our NAV technology platform to develop successful new therapeutics for patients suffering from severe diseases with significant unmet need," Mills added.
Prevail was co-founded by Asa Abeliovich, an MD and PhD, associate professor of pathology, cell biology, and neurology at Columbia University, attending physician at New York Presbyterian Hospital, and a member of the Taub Institute for Alzheimer's Disease and the Aging Brain.
"Current treatments for Parkinson's disease are focused on alleviating symptoms," Abeliovich said. "Prevail is focused on developing disease-modifying therapies that slow, stop, and reverse the neurodegenerative process."
Silverstein said his foundation is proud to partner with Regenxbio and Abeliovich in the founding of Prevail.
"We believe Regenxbio's NAV technology platform provides us with a promising opportunity to develop potential life-changing therapies for patients suffering from Parkinson's disease and other neurodegenerative diseases," he said. "Dr. Abeliovich's leadership and deep expertise in the molecular mechanisms of neurodegeneration uniquely position Prevail to make a significant mark in developing innovative biologic therapies for Parkinson's disease and other central nervous system diseases with huge unmet medical needs."
As a general partner at OrbiMed, based in New York, Silverstein finds himself in a unique position.
In the last 20 years, he's invested in healthcare and biotech companies that have led to more than 60 products approved by the U.S. Food and Drug Administration (FDA). He's been a member of the board of directors of many biotech companies. He's been named by Forbes for the last six consecutive years as one of the top 100 venture capitalists in the world. He knows the healthcare industry and what makes it tick.
Silverstein likes to get things done. But he doesn't have a cure for his disease, which usually affects people much older than him.
That's where the Silverstein Foundation comes in. It invests in cutting-edge research by awarding grants to research institutes, universities, and biotech companies with the goal of finding new therapies and, ultimately, a cure for Parkinson's — specifically caused by GBA and other genetic mutations — and similar neurodegenerative diseases.
According to the foundation's website, it "will operate like an efficient biotechnology company, laser focused on rapidly converting scientific ideas and experimental drugs into FDA approved therapeutics to treat and prevent the onset of disease in mutation carriers."
In March, it awarded a grant to the Michael J. Fox Foundation for Parkinson's Research, specifically for GBA gene-related research.
The same month, the Silverstein Foundation awarded a grant to the Parkinson's Institute and Clinical Center for researchers to complete a study of the clinical symptoms of genetic Parkinson's compared to sporadic Parkinson's as it relates to neurons in the gastrointestinal tract.
According to the Silverstein Foundation website, "Studying people who have a genetic form of Parkinson's will allow scientists to determine if the same mechanism that is believed to cause sporadic Parkinson's (which includes approximately 90 percent of people with the disease) also causes Parkinson's in people with GBA mutations. It is widely believed that targeting alpha-synuclein (the suspect in sporadic Parkinson's) will also be helpful in people with GBA-related Parkinson's. However, it remains to be proven that this is the case."
Several therapy candidates that don't directly target alpha-synuclein may benefit Parkinson's patients with GBA and other mutations. Findings from this Parkinson's Institute study may be helpful in advancing clinical studies for therapies to treat Parkinson's with GBA, the foundation explained.
The Silverstein Foundation has also given grants to a biotech developing new treatments for Parkinson's GBA and other neurodegenerative conditions, and to Columbia University for research into GBA mutations.
The GBA gene encodes for an enzyme called beta-glucocerebrosidase, which is active in lysosomes — structures inside cells that act as recycling centers. Beta-glucocerebrosidase is called a "housekeeping enzyme" that helps break down a large molecule called glucocerebroside into glucose and a simpler fat molecule called ceramide.
The foundation's scientific advisory board reads like a who's who of scientists and drug developers, including Leonard Bell, MD, principal founder of the global biopharma Alexion in 1992; Steve Squinto, PhD, a venture partner with OrbiMed and co-founder of Alexion, who also held various positions at Regeneron Pharmaceuticals; Asa Abeliovich, a co-founder of Prevail Therapeutics; Peter Thompson, MD; Carrolee Barlow, MD and PhD; Roy Alcalay, MD; Julian Adams, PhD; Gregory Grabowski, MD; Dimitri Krainc, MD; and Richard Hargreaves, PhD.