New Phase 2 trial of ATH434 in advanced MSA enrolls first patient
ATH434 is being tested in multiple system atrophy, a rare Parkinsonian disorder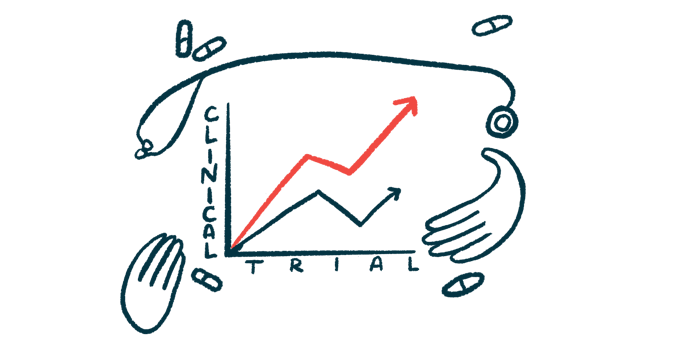 Alterity Therapeutics' new Phase 2 clinical trial testing ATH434 in patients with multiple system atrophy (MSA), a form of atypical parkinsonism, has enrolled its first patient, the company announced.
The open-label, biomarker ATH434-202 study (NCT05864365) is enrolling 15 adults, ages 30-75 years, with advanced MSA and clinical signs of parkinsonism at the Vanderbilt University Medical Center, in Tennessee.
Participants will receive oral ATH434 twice a day for 12 months. The study will assess the effects of ATH434 on key disease biomarkers, namely the levels of iron in the brain, formation of toxic clumps of the alpha-synuclein protein, and levels of neurofilament light chain (NfL), a biomarker of nerve cell damage. Its main goal is to evaluate the impact of ATH434 on brain iron levels measured using MRI.
The company also is recruiting participants for another Phase 2 trial (NCT05109091), where participants are assigned randomly to one of two doses of ATH434 or a placebo. However, the new trial will assess the potential efficacy of ATH434 in a more advanced MSA patient population.
"This Phase 2 Biomarker study complements our ongoing randomized Phase 2 trial, allowing us to evaluate the effect of ATH434 on two MSA populations of differing severity," David Stamler, MD, CEO of Alterity, said in a press release. "Individuals with more advanced MSA may also benefit from ATH434 and measuring key biomarkers will permit us to evaluate drug activity in this population."
Preliminary data from the biomarker study is expected earlier than the Phase 2 placebo study, and may be informative about the therapy's early efficacy.
"The randomized Phase 2 trial is proceeding as planned, but the design of this new study will allow us to perform interim analyses of biomarker data during conduct, which could give us early indications of efficacy. We expect to have preliminary data from an initial cohort of enrolled participants before the randomized study reads out," Stamler said.
"The data derived from these two trials will help us optimize and potentially accelerate future development," he added.
MSA similar to Parkinson's
In its early stages, MSA is similar to Parkinson's disease. However, patients usually have problems with blood pressure and bladder control, indicating a problem with the autonomic nervous system, which controls involuntary bodily functions. Patients with MSA also frequently show signs of ataxia, a loss of muscle coordination, which can cause problems with walking, picking up objects, swallowing, talking, and eye movement.
ATH434 is a brain-penetrant small molecule that can bind to iron and dampen its reactivity. Iron is believed to contribute to the formation of toxic clumps of the alpha-synuclein protein in the brain. Accumulation of this protein is a hallmark of both Parkinson's and MSA.
In preclinical studies, the investigational therapy was shown to help normalized iron levels in the brain, and halt the formation of alpha-synuclein aggregates. It also prevented loss in the sense of smell — an early and common symptom of Parkinson's disease — and nerve cell death in a mouse model of Parkinson's, and restored motor skills in aged animals.
In Phase 1 studies, ATH434 was well tolerated and achieved brain levels similar to those reported to be effective in animal models of MSA.
The therapy has been granted orphan drug designation for the treatment of MSA in the U.S. and Europe. Orphan drug status is designed to encourage the development of therapies for rare and serious diseases.