Exercise interventions found to ease motor symptoms in Parkinson's
Similar benefits seen in analysis for aerobic, nonaerobic exercise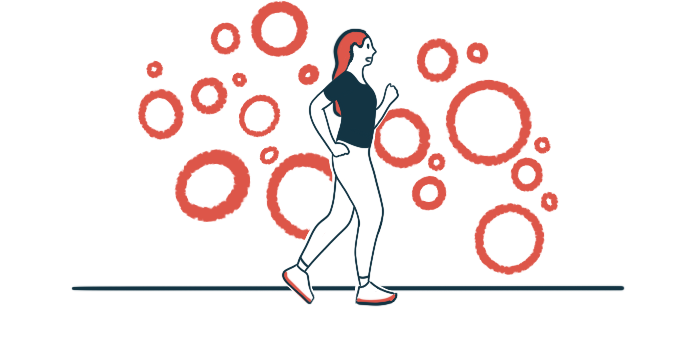 Physical exercise interventions can lessen Parkinson's disease motor symptoms — and these beneficial effects are similar for both aerobic and nonaerobic activity.
That's according to the findings of a new meta-analysis of published studies, which involved 25 articles relating to interventions spanning 4-26 weeks.
"This review provides evidence in support of exercise in the management of [Parkinson's disease]," the researchers wrote.
Aerobic exercise consists of physical activity involving continuous movement that increases the heart rate and the body's use of oxygen, such as running, walking, or swimming. Non-aerobic exercise interventions, meanwhile, involve short bursts of high-intensity movement fueled by energy stored in muscles; examples include weight lifting, climbing a flight of stairs, or jumping.
The study, "A meta-analysis of exercise intervention and the effect on Parkinson's Disease symptoms," was published in the journal Neuroscience letters.
Exercise interventions for patients ranged from dancing to walking to swimming
Parkinson's disease is characterized by the dysfunction and death of dopaminergic nerve cells (neurons). Neurons communicate with other nerve cells by releasing a signaling molecule, or neurotransmitter, called dopamine.
The disease is distinguished by motor symptoms — such as tremors at rest, slowness of movements (bradykinesia), muscle rigidity, and postural instability — as well as by nonmotor symptoms such as pain, anxiety, depression, cognitive changes, and sleep problems.
Several medications are used to control Parkinson's symptoms, but as the disease progresses these therapies may begin to lose their effectiveness. One of the main treatments for the disease's motor symptoms is levodopa, which replaces the loss of dopamine.
Typically, lifestyle changes that include physical exercise and diet are recommended, alongside such medications, for Parkinson's patients. Recent treatments also incorporate some nonconventional therapies that might contribute to lessen symptoms and improve quality of life.
Several types of exercise interventions are being studied for the treatment of motor and non-motor Parkinson's symptoms, following the best practice guidelines for occupational and physical therapy treatments.
But "prior meta-analyses performed on the effects of endurance exercise and [Parkinson's] have demonstrated inconsistent findings," the researchers noted.
Now a team in the U.S. conducted a new meta-analysis of studies investigating the effect of physical activity on Parkinson's motor symptoms. Exercise interventions were defined as any physical activity lasting up to one year, and included dancing, walking, running, swimming, and cycling.
The literature review included studies published from 2017 through March 2022, with a total of 3,963 works found in the analyzed databases. These databases were PubMed, SCOPUS, and CINAHL, or the Cumulative Index to Nursing and Allied Health Literature.
After removing duplicated publications, 1,196 studies remained. Using the Rayyan web-based platform for systematic literature review, 1,012 articles were excluded and 184 were further assessed.
From this, 159 were excluded based on the defined criteria, which included the date of publication, the use of physical activity for treatment, and assessing the effect of exercise on motor symptoms using specific scales for Parkinson's patients.
The final analysis included 25 studies with several types of exercise interventions, both aerobic and non-anaerobic.
Across the studies, motor symptoms were measured using the Unified Parkinson's Disease Rating Scale (UPDRS) total score or UPDRS part III (motor score), a standard measure of motor abilities and complications; or their equivalents from the Movement Disorders Society UPDRS (MDS-UPDRS).
Overall, therapeutic exercise had a positive effect on the motor symptoms of Parkinson's patients. These effects resulted from a range of aerobic and non-aerobic forms of exercise, with no qualitative differences observed between the two types.
From a standpoint of rehabilitation treatment planning, this study can assist the occupational and physical therapists in determining best practice and better predict outcomes of treatment, as it relates to [Parkinson's disease].
The researchers noted, however, that "the differential benefit of specific forms of exercise requires further investigation."
"From a standpoint of rehabilitation treatment planning, this study can assist the occupational and physical therapists in determining best practice and better predict outcomes of treatment, as it relates to [Parkinson's disease]," the team concluded.