April is the month to educate, raise awareness about Parkinson's
New 'Community Spotlight' campaign aims to share patient stories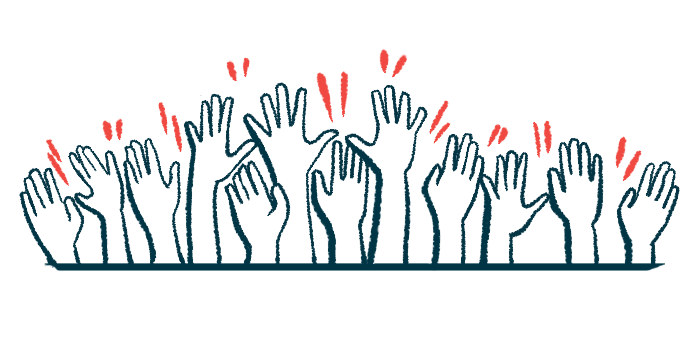 Parkinson's Awareness Month in April is a global opportunity to bring attention to the progressive neurodegenerative disease, as well as to educate communities about available resources, according to patients and advocates.
Since 1997, World Parkinson's Day has been celebrated on April 11. It commemorates the birth of James Parkinson, the English surgeon and scientist who first identified the condition in 1817.
Parkinson's News Today is highlighting this month with "Parkinson's Community Spotlight," a new campaign to give people the opportunity to raise awareness about what life is like with Parkinson's disease.
Putting a spotlight on Parkinson's patients and advocates
After being diagnosed in October 2020, Mike Krukar knows firsthand how critical it is to spread awareness about Parkinson's.
"The disease is brutal. We really have a choice to be stuck in self-pity or continue with life," Krukar said via an email interview with Parkinson's News Today.
The Sedona, Arizona, resident emphasized the importance of sharing how the challenge of the disease can give life new meaning, in both negative and positive ways.
Krukar's story, along with those from other contributors, will be shared throughout the month on Parkinson's News Today and the site's social media feeds: Facebook, Instagram, and Twitter.
Katie Nathan, a licensed physical therapist who has specialized in working with people with Parkinson's for the past four years, also is contributing to the new campaign.
"It is very important to be aware of both the non-motor and motor signs and symptoms of Parkinson's disease so that if you or a loved one experiences these you can seek help quickly," Nathan said in another email interview with Parkinson's News Today.
"The quicker you are diagnosed, the sooner you can start getting the support and assistance you need to improve your symptoms and change the long-term trajectory of living with Parkinson's," Nathan added.
She works in Reno, Nevada, and founded the Moved by Movement company in 2022 to provide both virtual and in-person exercise and health services specifically for people with Parkinson's.
Nathan believes that, with changes in lifestyle — such as improving diet and exercise — patients may potentially be able to slow the disease's progression over the long term.
"From my experience, when you have the right people on your team meaning the right physicians, physical therapists, occupational therapists, speech therapists, and/or exercise providers that specialize in Parkinson's care you will see better results. So doing your diligence to find these providers is advised," Nathan said.
Throughout April, many in-person and virtual events intended to spread awareness about Parkinson's and raise funds will take place in the U.S. and internationally.
New events and old favorites take center stage this month
The Parkinson's Foundation is marking this year's awareness month with the #Take6forPD campaign. A joint foundation study published last year showed that nearly 90,000 people are diagnosed with Parkinson's every year in the U.S. — meaning that, every six minutes, someone is receiving a Parkinson's diagnosis.
The nonprofit is asking everyone to take six minutes to help advance research, improve access to care, and empower and educate others. People are invited to participate in research studies such as the foundation's PD GENEration, find expert care in their region, or watch, read, or listen to educational resources. Other ways to get involved include sharing disease infographics on social media and joining in a campaign, such as the 60 Miles in April Facebook Challenge.
"Parkinson's can affect anyone, including those under the age of 50, so I wish for people with PD [Parkinson's disease] from all walks of life to gain hope from knowing that no gesture for Parkinson's Awareness Month is too small," Vikas Chinnan, a member of the Parkinson's Foundation People with Parkinson's Advisory Council, said in a foundation press release.
Several Moving Day walks — events across the U.S. that aim to bring more awareness to the disease — will take place throughout April, raising funds for the foundation.
The American Parkinson Disease Association (APDA)'s chapters and I&R Centers also have a full roster of activities planned for the month. Among its goals is sharing educational information and messages of inspiration and connection on social media using the hashtag #APDAconnects.
"Every six minutes there is a new diagnosis of PD, which means that in April alone nearly 7,200 people in this country will learn they have PD. These people need to know that they are not alone, and that APDA is here for them," Leslie A. Chambers, president and CEO of the APDA, said in an association press release.
In addition to local in-person events, APDA offers extensive virtual programming for access to high-quality Parkinson's information and programs, including the Dr. Gilbert Hosts webinar series — which is offering a special live program on April 17 — and the ongoing Spanish-language program Café con la Doctora. A number of virtual exercise and movement classes also are planned throughout the month.
The Michael J. Fox Foundation for Parkinson's Research (MJFF) lists a number of events in April, including fundraisers, pub nights, and sporting events. One highlight is the Parkinson's Unity Walk on April 22 in Central Park, in New York City.
Team Fox, the MJFF's grassroots fundraising community, also has partnered with Rumble Boxing to invite community members across the U.S., Australia, and the Dominican Republic to glove up in support of Parkinson's during open houses April 10-16.
Proceeds from classes, which will feature special hosts and exclusive offers for first-timers, will be used to support MJFF global research efforts.
"We are honored to partner with The Michael J. Fox Foundation to help raise awareness for Parkinson's disease and help people find ways to cope with movement disorders in a fun and motivating way," Rachelle Dejean, Rumble's chief marketing officer, said in another press release.
Liz Diemer, the MJFF's vice president of community fundraising, said the nonprofit "is on a mission to speed a cure for Parkinson's disease as quickly as possible."
"And we need more generous partners, like the folks at Rumble, to help us achieve that ambitious goal," Diemer said.
Activities planned across the globe this April
Meanwhile, in Canada, a number of provincial organizations are holding events, including in British Columbia, Alberta, and in southwestern Ontario.
Every six minutes there is a new diagnosis of PD [Parkinson's disease], which means that in April alone nearly 7,200 people in this country will learn they have PD. These people need to know that they are not alone.
Parkinson's UK is celebrating April 11 by asking people to light up blue, whether it's an iconic building, a room, or a village hall. The association also is collecting poems that tell the world about people's experiences of living with or caring for someone with the disease.
Also in the U.K., Cure Parkinson's is holding a Superhero Day on April 28, asking school children to participate in awareness activities.
Parkinson's Australia will use the month of April to talk about the importance of recognizing some of the lesser-known early signs and symptoms of Parkinson's. Parkinson's Queensland is hosting the "Really Big Walk" on April 22, in which organizers Joe and Vince Kelly will walk 550 km (about 340 miles) to raise awareness and funds.
Parkinson's Europe is collating a list of events, all to urge recognition that the disease is the fastest growing neurological condition in the world.
In addition, in celebration of Parkinson's Awareness Month, INSIGHT 2023, an online global conference, will offer 25 presentations from experts on Parkinson's research, care, health, and wellbeing, from April 13-15. PD Warrior, an online exercise company that offers physical and cognitive activities for people in the early stages of the disease, is hosting the event.