Despite Parkinson's, I've Found Purpose in My Little Boy in Blue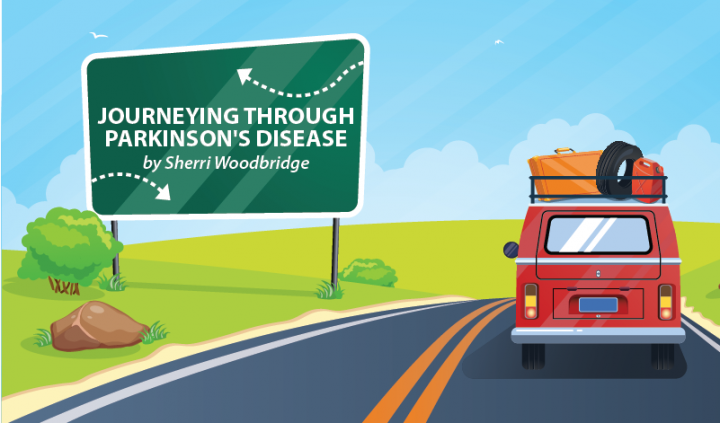 It feels like I have no purpose.
Ideas climb inside my head and instead of taking root so that I can grasp them and hold them captive in hopes of putting pen to paper, they disappear like dead leaves lying on the ground; crisp, full of beauty, blown away by the first good gust of wind that breezes through my mind.
Which happens more than I'd like.
It's frustrating.
When my meds kick in and my fingers obey ME (and not the dopamine-deficient brain inside of my head), my mind can still become distracted, previous thoughts shoved aside, waiting for another aforementioned gust of wind.
After the wind dies down and I remember I was telling myself I have no purpose, the back door opens to the sounds of a little boy in rubber boots and a boy-blue raincoat.
He's ready to go play. And jump in puddles. And make brownies. And clean the shower with his own spray bottle. And have a stuffed animal pillow fight. And look for acorns and watch the squirrel take the acorns we leave for him atop the fence. And "Hi-Yah" plastic bucket towers. And watch "Special Agent OSO."
And suddenly I realize just how much purpose I have. And somehow, I can do it — care for this little grandson of mine — with or without this little monster that lurks inside and insists that no one wants to bother with me anymore, for I can be a bother, a burden.
I can't do this, and I can't do that, and it's … frustrating.
So very frustrating.
I must repeat words. Constantly.
I must go slowly. With everything.
Or so it seems.
I can't busy myself with the many wonderful chores or talents or projects that my friends can.
But you know what? It's OK. Those things are no longer my purpose. And while sometimes I long for the previous pleasures of painting, leading children's choirs and women's groups, driving on field trips, teaching Bible studies, and more, I do have a purpose. A most wonderful purpose.
That little boy in blue.
***
Note: Parkinson's News Today is strictly a news and information website about the disease. It does not provide medical advice, diagnosis or treatment. This content is not intended to be a substitute for professional medical advice, diagnosis, or treatment. Always seek the advice of your physician or another qualified health provider with any questions you may have regarding a medical condition. Never disregard professional medical advice or delay in seeking it because of something you have read on this website. The opinions expressed in this column are not those of Parkinson's News Today or its parent company, BioNews Services, and are intended to spark discussion about issues pertaining to Parkinson's Disease.