The Ridiculous Complications of Parkinson's Disease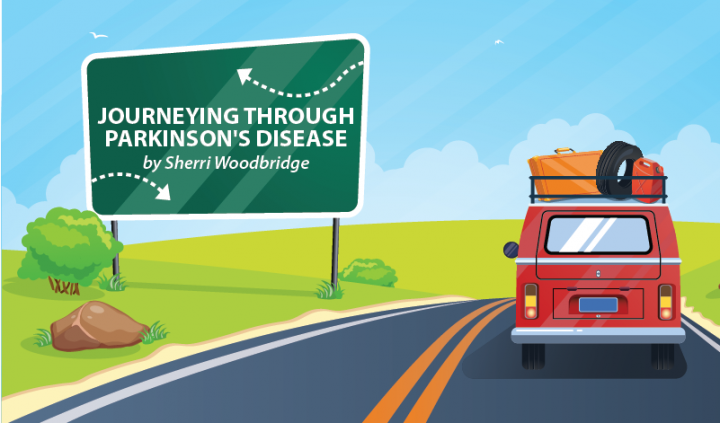 "It's gonna be 40, 60 degrees today." That was the weather report given this morning by my 3-year-old grandson. Well, he almost got it right. It was supposed to get up into the 80s.
We went to Boingo's, the bouncy house playground, to work out some wiggles and then we stopped at the market for a few things. Because Finn knows which market we were at, he also knew that it was the market that sells ice cream cones to grandchildren in need of a treat. So, Grammy took him to the counter and Finn got a single scoop of chocolate chip mint and Grammy got a scoop of mocha almond fudge.
We exited the store with three bags of groceries and two scoops of ice cream in hand. I got Finn all buckled in and handed him his ice cream. As I stood near him, the car door open where he sat eating his ice cream in the back seat, he said to me, "Grammy, come sit by me."
So I went around to the other side of the car and got in the backseat with him. We sat and chatted about his favorite Transformer of the week, Green Boulder. Finn commented that he felt hot. I pulled on the handle so I could get out and to my surprise, the child locks were engaged and there was no way I was getting out that door.
"Uh oh."
A little voice: "What, Grammy?"
"Oh, nothing. Grammy's going to have to climb over the front seat to open the window."
Do you know how hard to is for someone with Parkinson's to just climb over the front seat? Especially someone with Parkinson's who could stand to lose a few pounds? Yeah, well I didn't. But now I do.
I set my cup of ice cream on the floor and stood up. Well, I didn't really stand up. It was more of an attempt to stand while remaining hunched over. Then I proceeded to step onto the front seat. Because of the cramped quarters and the stiffness in my legs, I had to lift my left leg up to the passenger's seat and then bring my right leg up. Not gonna happen.
I have had so much pain and stiffness in that leg lately that as soon as I attempted to put my right leg on the front seat, it cramped up. As fast as I could, I straightened it out and gathered my courage to retrace my steps so I could get out of the car.
The little voice questioned, "What's wrong Grammy?"
"This isn't gonna be easy."
"Grammy. I'm hot." Again, that sweet little voice.
"Hang on Finn. Hang on."
So, I closed my eyes, and on the count of three, pulled my right leg to the front seat, ignoring the cramping that was now ravaging my leg. I opened the passenger door and wondered how I was going to get from the front seat to the ground in front of me. Should I somersault from my crouched position? Just gracefully fall? Try and repeat pulling my leg down to the ground and go through the cramping again?
I opted for the latter, as the somersault would not end anywhere near graceful, and the falling option … I've done it before, and it didn't turn out well at all.
I pulled my leg forward and the cramping immediately returned. As fast as I could, I pulled my leg toward the door and stood up, holding the door for support and praying it didn't swing open and take me with it.
Once I had both feet firmly planted on the ground, I slowly stood and then walked to ease the cramping. I finally walked around and opened the windows, and not wasting any time, changed the child locks to open.
"Grammy, come sit with me," Finn said again.
Leaving the door wide open, we sat and drank the rest of our ice cream. As a person with PD and its many unwanted complications, I was just grateful I didn't have to go to the bathroom during that episode. So very grateful.
***
Note: Parkinson's News Today is strictly a news and information website about the disease. It does not provide medical advice, diagnosis or treatment. This content is not intended to be a substitute for professional medical advice, diagnosis, or treatment. Always seek the advice of your physician or another qualified health provider with any questions you may have regarding a medical condition. Never disregard professional medical advice or delay in seeking it because of something you have read on this website. The opinions expressed in this column are not those of Parkinson's News Today or its parent company, BioNews Services, and are intended to spark discussion about issues pertaining to Parkinson's disease.