Black Doggy Goes to the Doctor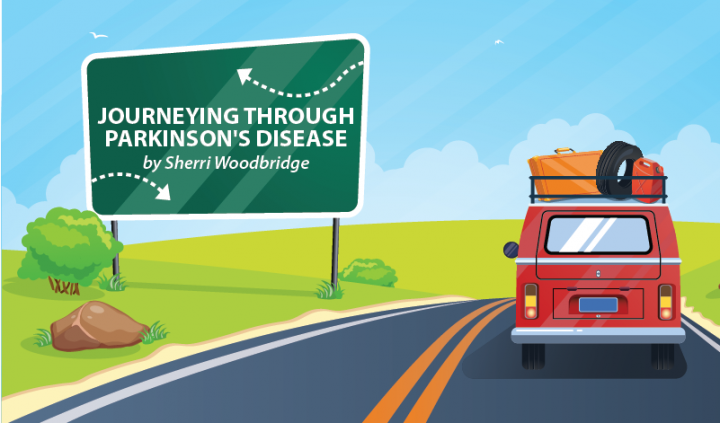 "Why can't I go?" asked my granddaughter, whom I call Boo.
"The doctor is trying to fix my brain and it won't be any fun," I replied as 3-year-old Boo looked at me curiously. I had undergone deep brain stimulation two weeks earlier for my Parkinson's disease, and was scheduled to have my unit turned on and programmed.
It was a two-day drive down to Arizona where my movement disorder specialist was, then two days driving back home to southern Oregon.
The day before I left, Boo informed me that she still wanted to go with me to the specialist. Boo also told her mother the same thing when she came to pick her up. (I watched her every day while her parents were at work.) When her mommy said no, her little lips began to quiver and tears welled.
"Boo, the ride is really long and you really wouldn't like it. How about the next time Grammy goes to her regular doctor here, you can come with me, OK?" I asked her.
That appeased my granddaughter for the time being and she left for home.
Later that evening, my husband and I drove over to Boo's to say goodbye to the family because we were leaving in the morning. As we got ready to go back home, my son said, "Boo, isn't there something you wanted to give Grammy to take with her to the doctor?"
Her face lit up and she ran to her room.
"She was still upset when we got home today about not being able to go with you to the doctor," her mom told me as we waited for Boo to return. And then, here she came around the corner with Black Doggy. Black Doggy is Boo's prized and favored little friend. Boo cannot sleep without Black Doggy. Boo cannot live without Black Doggy. Boo gave me Black Doggy.
"You can take Black Doggy with you to take care of you," she told me as she handed him over.
I fought back tears. "Oh … but what will you do when you go to bed?"
"I'll use Brown Doggy," she said. My son winked at me and nodded his head.
"OK," I said. I then asked, "Do you want to have Black Doggy's picture taken with the doctor?"
Boo was beside herself. "Yeah, Grammy! Yeah!"
I gave Boo another big hug and we left. OK, so how was I going to pull this off without feeling utterly ridiculous? Who cares? Anything for Boo.
Two mornings later, I saw my doctor. Re-entering the exam room after doing some tests, my husband sat waiting and holding Black Doggy and the camera.
"OK," he said as he stood up, "this is for Boo."
"Oh, the grandchild! We can do that," my doctor laughed and then smiled for the camera, holding Black Doggy.
Boo was so pleased with her picture. Sometimes all it takes to make things better is a stuffed black doggy.
***
Note: Parkinson's News Today is strictly a news and information website about the disease. It does not provide medical advice, diagnosis or treatment. This content is not intended to be a substitute for professional medical advice, diagnosis, or treatment. Always seek the advice of your physician or another qualified health provider with any questions you may have regarding a medical condition. Never disregard professional medical advice or delay in seeking it because of something you have read on this website. The opinions expressed in this column are not those of Parkinson's News Today or its parent company, BioNews Services, and are intended to spark discussion about issues pertaining to Parkinson's disease.