Retinal Thinning Linked to Parkinson's and Likely Disease Severity in Newly Diagnosed Patients, Study Finds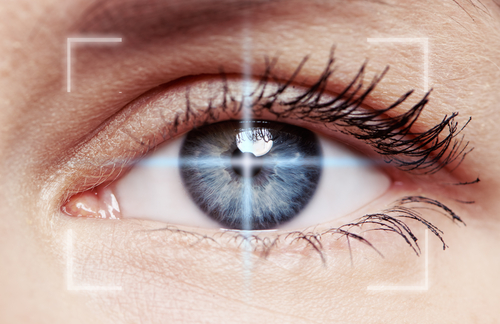 Thinning of the eye's retina appears to be associated with Parkinson's and, possibly, with disease severity, a study reports, suggesting that an eye scan might be used at some point to detect Parkinson's in its earliest stages, before motor symptoms begin.
The study, "Retinal thinning associates with nigral dopaminergic loss in de novo Parkinson disease," was published in the journal Neurology.
Visual impairment is a common non-motor symptom of Parkinson's, which is known to affect patients at the early stages of the disease.
Advances in imaging technology have allowed researchers to obtain high-resolution images of the retina — the layer of nerve cells at the back of the eyeball that sends impulses to the brain, forming a visual image.
Studies have shown that Parkinson's patients have retinal thinning, which correlates with disease severity or duration.
For this reason, researchers in South Korea analyzed the relationship between thinning of the inner retinal layers and the loss of dopamine-producing neurons in newly diagnosed patients. Parkinson's is characterized by the gradual loss of nerve cells in the brain that produce dopamine, a chemical substance that helps control movement.
They conducted extensive ophthalmologic (eye) examinations and obtained high-resolution images of each of the retina's five layers in 49 Parkinson's patients (average age 69) and 54 age-matched controls. The patients had, on average, been diagnosed with Parkinson's on average two years earlier, but were not yet on medication.
Results showed patients had significantly more thinning of the retina compared to age-matched controls. This was particularly prominent in its two inner-most layers, known as the ganglion cell and the inner plexiform layer, with the inner-most layer showing  an average thickness of 35 micrometers (μm) in one section, compared to an average 37 μm in controls.
The thickness of these two retinal layers was linked to disease progression: the lesser the thickness, the greater the disease progression.
Twenty-eight patients also underwent dopamine transporter positron emission tomography (PET) imaging, which evaluates the density of dopamine-producing cells in the brain.
A positive association was found between retinal thinning and loss of dopamine-producing cells in the left substantia nigra — the part of the brain involved in Parkinson's pathology.
"Retinal thinning is present in the early stages of PD, correlates with disease severity, and may be linked to nigral dopaminergic degeneration," the researchers wrote.
"Our study is the first to show a link between the thinning of the retina and a known sign of the progression of the disease — the loss of brain cells that produce dopamine," Jee-Young Lee, MD, PhD, with the Seoul National University Boramae Medical Center and a study author, said in a press release.
"These discoveries may mean that neurologists may eventually be able to use a simple eye scan to detect Parkinson's disease in its earliest stages, before problems with movement begin," Lee added.
However, larger studies are necessary to confirm these findings and understand why retinal thinning and the loss of dopamine-producing cells are linked, Lee suggested.
"If confirmed, retina scans may not only allow earlier treatment of Parkinson's disease but more precise monitoring of treatments that could slow progression of the disease as well," he said.