Muhammad Ali's Advocacy for Parkinson's Disease Endures with Boxing Legacy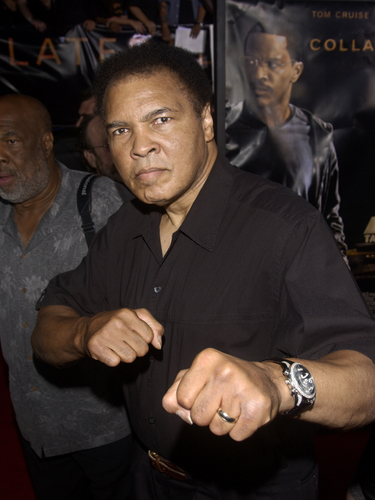 Thirty-six years after clinching an Olympic gold medal, a trembling hand lit the 1996 Summer Olympic Flame during the opening ceremony in Atlanta, Ga.
The hand belonged to the greatest boxer in the world, Muhammad Ali.
The significance of the moment far exceeded his title as 'The Greatest' heavyweight champion in the world who had defeated a list of boxing legends including Joe Frazier and George Foreman. Ali had spent the last sixteen years fighting a much more dangerous adversary and lighting the flame that July evening signified yet another victory in his battle against Parkinson's Disease.
In those few seconds, Ali showed the world, "I have Parkinson's disease but Parkinson's disease doesn't have me." The image alone would inspire millions and epitomize the legacy of Muhammad Ali as "The People's Champion."
The only three-time world heavyweight champion, Ali made an indisputable impact on the sport of boxing. Outside of the boxing ring, he played an influential role in the 1960s Civil Rights Movement and facilitated a culture of pride among African Americans. The last thirty years of his life were devoted to raising public awareness of the debilitating neurological disorder that affects nearly 10 million people worldwide, Parkinson's Disease.
Parkinson's Disease is caused by the degeneration of nerve cells in the brain and affects movement and coordination throughout the body. As a disease that affects the body in a physical, mental, and emotional manner, its symptoms vary widely from patient to patient but most experience muscle tremors and limb stiffening, sleep disturbances, and mood disorders. While there is no cure for Parkinson's Disease, individualized treatments plans are utilized to alleviate symptoms and enable a better quality of life.
Muhammad Ali was diagnosed with Parkinson's Disease in 1984, three years after his retirement from boxing. He would survive the disease for another 32 years, amounting to almost half of his life. Muhammad Ali passed away from complications of Parkinson's on June 3, 2016 at the age of 74.
After his diagnosis, Ali became one of the most prominent individuals with the condition. He selflessly capitalized on his increased publicity to raise awareness of Parkinson's Disease.
Dr. Michael Okun, the medical director of the National Parkinson Foundation said, "His involvement with Parkinson's disease was really transformational for the field. Before Ali, there wasn't that much known about Parkinson's disease [among the public]. People mistook it for Alzheimer's or ALS, and didn't realize that you could potentially live a long happy life with Parkinson's disease with the right cocktail of medicines, therapies and good expert care."
During the 1990s, Muhammad Ali began heavily advocating for increased government funding for Parkinson's Disease research and even donated his own royalties to research dollars. He began an annual Celebrity Fight Night to raise money for research and it is estimated that his efforts contributed $100 million in donations for the cause.
In 1997, Ali helped establish Muhammad Ali Parkinson Center at the Barrow Neurological Institute, a clinic, outreach, and research center dedicated to Parkinson's Disease. For the next ten years more than 23,000 research articles concerning Parkinson's Disease were published in scientific journals.
In addition to increased awareness and research funding, Ali contributed to the current treatment regimen of Parkinson's.
As a result of his influence, it is now widely accepted that regular exercise, particularly when begun early after diagnosis, can reduce symptoms and greatly increase a patient's quality of life. Many centers, including the Muhammad Ali Parkinson Center, now integrate physical and mental exercise into the treatment of patients.
Perhaps Muhammad Ali's greatest impact can be characterized by the strength and poise by which he fought his own battle against the disease. His resilience provided a message of hope, which he spread throughout the world. He courageously faced cameras time after time in order to offer the world a glimpse into his vulnerable moments, such as the lighting of the Olympic cauldron, to continuously remind others that Parkinson's is a disease to be faced with courage, grace and humor every day.
In a video tribute sharing what Ali meant to them, a patient of the Muhammad Ali Parkinson Center declared, "He never said he can't do this, so, that has become my motto."
His life was a symbol of hope; and hope will undoubtedly remain his most lasting legacy.
Photo Credit: Featureflash Photo Agency / Shutterstock.com