Metabolism of Metals in Blood May Be Affected by Parkinson's Disease, Study Says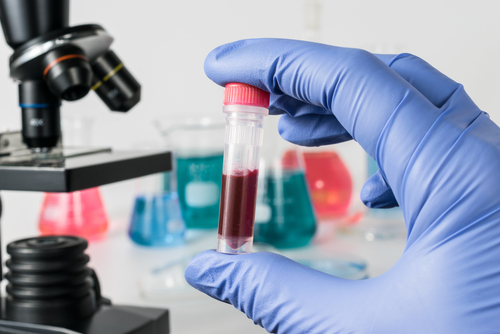 Cooper concentrations are significantly affected in the blood serum of Parkinson's patients, suggesting this metal metabolism could somewhat influence the mechanisms behind this neurodegenerative disorder, a study reports.
The results, "Assessment of copper, iron, zinc and manganese status and speciation in patients with Parkinson's disease: A pilot study," were published in the Journal of Trace Elements in Medicine and Biology.
Environmental factors are thought to contribute to Parkinson's disease (PD). Metals such as copper, iron, zinc, and manganese are known to be neurotoxic. Evidence indicates that metal exposure can contribute to Parkinson's-related neurodegeneration, mainly by modulating alpha-synuclein protein aggregation — one of the key events in the development of PD.
For instance, higher-than-usual iron levels have been found in a brain region important to motor control, called the substantia nigra, of Parkinson's patients. This brain area is one of the most affected by the disease.
High levels of zinc and copper have also been found in the cerebrospinal fluid (surrounds the brain and spinal cord) of people with Parkinson's. In addition, severe manganese overexposure can cause Parkinson's-like symptoms. Manganese is a compound present in ground water.
Although metal exposure is known to play some role in neurodegeneration, available data on their trace amounts in Parkinson's patients are rather contradictory.
A team of researchers in Russia assessed the levels of iron, copper, zinc, and manganese in the hair, blood serum, and urine of 13 patients, as well as the species of these metals in patients' serum.
These 13 people (nine women and four men; mean age of 73.6) and 14 gender-matched healthy controls had their serum, urine, and hair metal content analyzed. Scientists also assessed the specific forms/species of iron, copper, zinc, and manganese that were present in participants' serum samples.
Several exclusion criteria were used in the study to "decrease the impact of side factors." Namely, these factors are the presence of other neurological disorders; being a vegetarian; endocrine (hormone imbalance) disorders; recurrent gastrointestinal problems; acute infectious, surgical and traumatic diseases;  metallic implants; smoking and alcohol use; and occupational or environmental exposure to metals.
While no significant differences were found in hair, urine and serum metal levels between these two groups, "a trend towards decreased hair (−22%) and urine (−41%) copper levels was observed in PD patients as compared to controls," the researchers wrote.
Hair iron and manganese levels showed a tendency to rise in the Parkinson's group: iron concentrations in patients exceeded those of controls by 24% and manganese levels by 21%.
Urine iron and zinc levels were 38% and 47% lower in the patient than control group. Blood serum metal levels were almost similar across the two.
In circulation, cooper is usually carried by ceruloplasmin, the major copper-carrying protein in the blood. This protein also plays a role in iron metabolism. In Parkinson's, the binding of copper to ceruloplasmin is reduced, this way increasing the pool of free cooper available in the blood. Free cooper is thought to play a significant role in neurodegeneration, mainly by promoting oxidative stress: cellular damage as a consequence of high levels of oxidant molecules.
According to the researchers, "reduced ceruloplasmin levels may ultimately lead to increased iron sequestration in brain structures including substantia nigra."
Speciation analysis — a process by which one can identify the quantities and concentrations of individual elements in a sample — revealed a significant decrease in the molecular binding of copper to ceruloplasmin, resulting in "a nearly ten-fold increase in serum free copper levels in PD patients."
These results need to be interpreted carefully, as the levels of free copper in both groups were still within normal range, the researchers said.
Though metal speciation appears to be significantly affected in the serum of Parkinson's patients, how these molecular changes impact the patients' disease course remains to be understood.
The scientists believe that their "findings are indicative of the potential role of metal metabolism and PD pathogenesis [its origin and progression], although the exact mechanisms of such associations require further detailed studies."