Globin Protein Levels May Help Assess Efficacy of Dopamine Agonists in Parkinson's Patients, Study Shows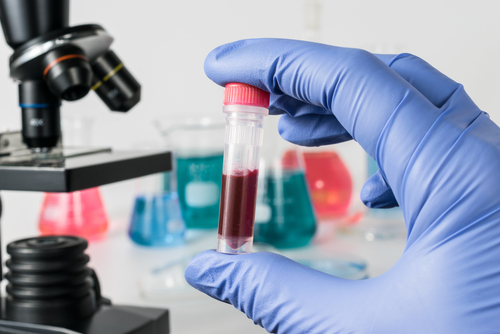 Evaluation of two specific proteins circulating in the blood, called alpha- and beta-globin, may help monitor treatment efficacy and risk of side effects among patients with Parkinson's disease, a study suggests.
The study, "2D-DIGE as a strategy to identify serum protein biomarkers to monitor pharmacological efficacy in dopamine-dictated states of Parkinson's disease and schizophrenia," was published in Neuropsychiatric Disease and Treatment.
Parkinson's disease is triggered by the death of dopamine-producing neurons in the midbrain, which control movement. Lack of dopamine — a crucial chemical messenger that allows nerve cells to communicate — causes impaired body control and induces the motor symptoms that are commonly associated with this disease, such as tremors, gait, and balance problems.
Given the underlying mechanisms of Parkinson's disease, patients are commonly prescribed dopamine agonists to overcome dopamine loss and manage symptoms. However, the use of these therapeutic compounds is linked to several adverse effects including hallucinations, which are due to increased activity of dopamine in the brain.
Despite research efforts, no tests are currently available to help recognize if a treatment is effective or if a treated patient is reaching a point of dopamine over-activity and increased risk of side effects. As such, clinicians still rely almost completely on patients' compliance and symptoms to assess therapeutic efficacy.
Therefore, researchers in the study explored whether a simple blood test could identify patients' at risk of experiencing treatment-related adverse reactions. The team recruited five patients with Parkinson's disease and five patients with schizophrenia who had never been treated with dopamine-related therapies.
The psychotic symptoms of schizophrenia are known to be caused by overactivity of dopamine in the brain — similar to what occurs as a side effect of dopamine-agonist use in Parkinson's patients.
Comparing the different proteins in the participants' blood samples revealed that alpha- and beta-globin proteins were consistently present in Parkinson's patients but absent in schizophrenia patients.
To better understand if these two proteins could be used as biomarkers of dopamine status, the team further analyzed them in a group of 100 individuals
The cohort included six Parkinson's patients who had not received any therapy, 44 patients who had received treatment, and five patients who had undergone treatment with different dopamine agonists and had experienced treatment-related adverse effects such as visual or auditory hallucinations.
The remaining participants had been diagnosed with schizophrenia, among whom five had not received prior treatment (treatment-naïve), 36 were treated with dopamine inhibitors, and four were treated and experienced Parkinson's-like symptoms.
The levels of alpha- and beta-globin were three-fold higher in treatment-naïve Parkinson's patients compared with treatment-naïve schizophrenic patients. In addition, the expressions of both proteins were significantly higher in patients treated for Parkinson's disease than in those treated for schizophrenia.
Overall, the amount of these two proteins circulating in the blood was found to be inversely correlated with mid-brain dopamine concentrations. This means that schizophrenic untreated patients (who have the highest dopamine activity) had the lowest levels of alpha- and beta-globin proteins, while Parkinson's untreated patients (who have the lowest dopamine activity) had the highest levels of both proteins.
Disease scoring, gender, and age had no impact on the levels of the two proteins.
"The inverse relationship between globin expression and dopamine concentration in the brain holds value as a translational tool in the therapeutics of Parkinson's disease," the researchers wrote.
Moni­toring the levels of alpha- and beta-globin proteins could be a useful "tool for clinicians to efficiently and effectively treat Parkinson's disease and schizophrenia," they said.