Digital tools, platforms may offer way of ensuring better nutrition
Interviews find patients and caregivers engaged, but barriers evident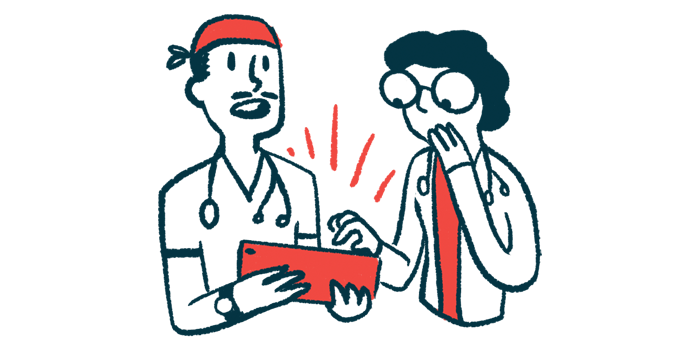 Digital tools, such as wearable devices and video calls, may help people with Parkinson's disease in managing their nutrition — but barriers will need to be overcome before these tools can be used optimally by patients and caregivers.
That's according to the study, "The Facilitators and Barriers to Digital Health for Managing Nutrition in People With Parkinson's Disease and Their Caregivers: A Formative, Qualitative Study," published in the Journal of Nutrition Education and Behavior.
It was conducted though interviews with 20 patients and their caregivers in the northeastern U.S.
Nutrition can be compromised by Parkinson's symptoms, medications
Adequate nutrition is a crucial part of maintaining good health. Patients often experience unique challenges when it comes to meeting their nutritional needs, ranging from Parkinson's motor symptoms that make swallowing difficult to potential interactions between certain foods and disease medications.
Digital health tools may be a useful way for people with Parkinson's and their caregivers to access information about nutrition, but little research has looked into how they view such tools. Scientists largely at institutes in Rhode Island conducted the interviews to learn more; people were recruited mostly through community centers and support groups.
"This study examined facilitators and barriers to using digital health platforms for nutrition services among [people with Parkinson's] and their informal caregivers," the researchers wrote, adding that the long-term goal of this type of research is "to inform the creation of a user-friendly, evidenced-based digital nutrition service."
Most of the 20 patients interviewed identified as male, while most of the 20 caregivers identified as female. All identified as white, with one patient also identifying as Hispanic/Latinx. The group's average age was 68; patients were diagnosed with Parkinson's a mean of 7.6 years ago and considered to be in the disease's earlier stages.
Many were found to be at risk of poor nutrition, measured by the 25-item Dietary Screening Tool questionnaire. Scores below 60 are categorized as at risk; caregivers' mean score was 58.2 and that of patients 56.95.
Interviews showed that these patients and caregivers viewed digital health platforms as a useful, cost-effective, and convenient way of acquiring knowledge. Many already used digital tools to get information, from keeping up with news to checking answers on crossword puzzles. They also had searched for advice regarding nutrition.
"You get information very easily … I was able to ask the question to Google, 'how many calories in a cup full of berries?', and I got an answer back," one patient said.
"I can see as I get more forgetful and I get more multitasking that there will be more technology, like you left the stove on or the sink running or forgot to shut the fridge," another remarked.
Smartphones and watches may not meet challenges of Parkinson's and aging
Patients and caregivers reported that digital tools can be enjoyable and a way to socialize. For example, some patients mentioned using social media like Facebook to connect with others with Parkinson's, sharing tips and tricks for navigating life with the disease as well as finding support in the community.
Despite the potential promise of digital health tools, patients and caregivers also noted some barriers to their use. These included difficulty in using or understanding digital platforms, a poor platform design, frustrations with the reliability of technology, and skepticism about getting accurate information online.
"With my hand, using the phone and texting and stuff is a pain in the butt … And when I talk to Siri she doesn't understand me all the time," one caregiver said.
"There's a lot of information out there, and I trust it from places like the Parkinson's Association … most of what I read online I take with a grain of salt," said one patient.
Videoconferencing for health checkups was favored to dealing "with rush-hour traffic to maintain an appointment," another patient said.
Poor product design as a barrier indicates that "many commercial devices and programs for the public do not meet the physical and cognitive changes unique to [Parkinson's] and aging," the researchers wrote, adding barriers such as tremor make smartphones and smartwatches less useful.
Given the groups' risk of poor nutrition, the scientists noted that wearable devices providing "real-time, objective feedback that is continuously and passively collected … can help enhance patient care by providing accurate information to the health care provider."
But patients and caregivers were skeptical.
"There seems to be a misconception among [these pairs] that it is time-consuming and requires active engagement and tracking by end-users," the scientists added.
Distrust of technology and its difficulties noted by patients, caregivers
Many of the interviewees also noted a general distrust of technology, as well as lack of interest or difficulty accessing certain platforms, despite being "highly educated."
"I don't ever bring technology into my home. People that have a smart house that automatically regulates the temperature in the house, the lighting. I have sensors that didn't cost me anything — my skin tells me how cold it is, my eyes tell me if there needs to be more light in the house or if there is too much light," said one patient.
Researchers hope to use study findings to develop a digital platform that can deliver useful information about nutrition to patients and caregivers while minimizing barriers.
"Our data support developing, piloting, and examining the acceptability and feasibility of a digital health platform to deliver a nutrition service across diverse [Parkinson's] communities that are convenient, include informal caregivers and minimize participant burden," they wrote.