Wellness Journey: Finding My Way on the Map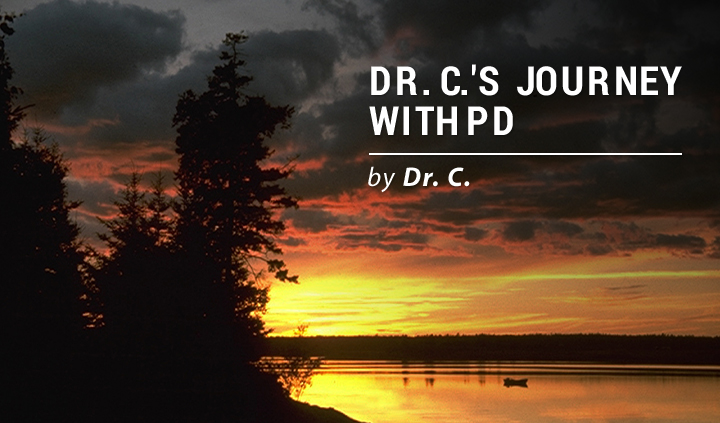 How do I know when I'm getting well?
There's that child's voice yelling from the back seat of the car reminding me that time waits for no man. I would like to say: "Hey, we are almost there?" But I am not sure what "there" looks like.
Perhaps getting well is just "feeling like your old self again." Saying that as a way of describing a wellness process doesn't clearly describe the phenomena occurring during the process of getting well. What it does communicate is the idea that getting well is something people experience. People do return to an experience of "my old self" again.
The recent physical issue with my eyes, along with Parkinson's disease, has forced me into a different perspective. I can't give the answer I'd like to the child's earworm, "Are we there yet?" I can answer: "The GPS has us right on track."
Wellness map
We each have our own definition of wellness. We know that sense of feeling "like my old self." It's a map showing us a way from our current state to one where we feel better. There are signposts on the map that point us toward wellness. How we have come to understand these signs is likely to be as varied as Parkinson's. It is easy in life to become so overwhelmed that it seems as if there are no signposts, and sometimes, no map. I flail about for a while, get all emotional. With help from family and friends, I return to my old self, a shift toward wellness.
I constantly remind myself that there is an atlas. To believe anything else means to disbelieve in the holistic scientific philosophy that is the foundation of my alter ego, "Dr. C." It's a fight to push rational thoughts over emotion in order to regulate the emotional effects following an injury or setback. It is hard to do, but the wellness map is worth the effort. Regulation of emotion is part of my wellness map.
Commonalities
I have heard, "If you have met a person with Parkinson's, then you have met one person with Parkinson's." Parkinson's expresses itself uniquely in each of our lives. In the same way, our map of wellness — or way of living well with Parkinson's — is specific to our own way of experiencing the world. Even though Parkinson's is slightly different for everyone, there are some shared phenomena. For example, motor control problems, change in cognitive performance, and experiencing "off-and-on" periods are just a few commonalities. It's the shared phenomenon that helps to provide a common language for communication about not only Parkinson's but also about our journey using the map of wellness.
Time to heal
One of the first things I do when a serious injury happens to me — and I feel upset and/or confused — is simplify life. I need time to heal. I need to make time in life to simplify the demands on my time to free up my schedule for wellness. It must be a conscious decision to put more time into wellness and to do so with a committed resilience and a sacred intent. I agree to do what I know I need to do for myself in order to heal. I am not talking about some selfish dive into a quart of Ben & Jerry's without offering to buy a pint for your partner.
Healing while taking care of others is not only possible, it is compatible. The sense of personal sacred healing space is a space without distraction. It is focused on a state of being which best supports the healing needs at that interconnected moment. Getting back to that space after getting smacked in the face is my current journey. This is where practice has helped me. It is part of my wellness map.
I have written about the CHRONDI Creed and the compassionate warrior's mental frame. My map includes such a mental framework. Ideally, it is not angry. Rather, it is filled with energy that can be directed as needed as a warrior in terms of preparations, resilience, and sacred intent. The idea of a sacred intent connected to our personal wellness journey is not as strange as it might seem.
In my postdoctoral thesis, I explored how for millennia we humans held great reverence for those who could facilitate the well-being of the tribe members. Sacred is not the same as religious. It is more about a reverence for the process. I have reverence for the beauty of science and for the spiritual aspects of who we are as humans. For me, there is so much intertwining to find a peaceful coexistence between the mystic side and the scientific side.
In writing about wellness, I can't let go of one side in favor of the other. It is going to be a challenge to blend the two into a new view.
What is on your wellness map? Share your ideas in the comments.
***
Note: Parkinson's News Today is strictly a news and information website about the disease. It does not provide medical advice, diagnosis or treatment. This content is not intended to be a substitute for professional medical advice, diagnosis, or treatment. Always seek the advice of your physician or another qualified health provider with any questions you may have regarding a medical condition. Never disregard professional medical advice or delay in seeking it because of something you have read on this website. The opinions expressed in this column are not those of Parkinson's News Today or its parent company, BioNews Services, and are intended to spark discussion about issues pertaining to Parkinson's disease.