Stress Can Result in Resisting Sanctuary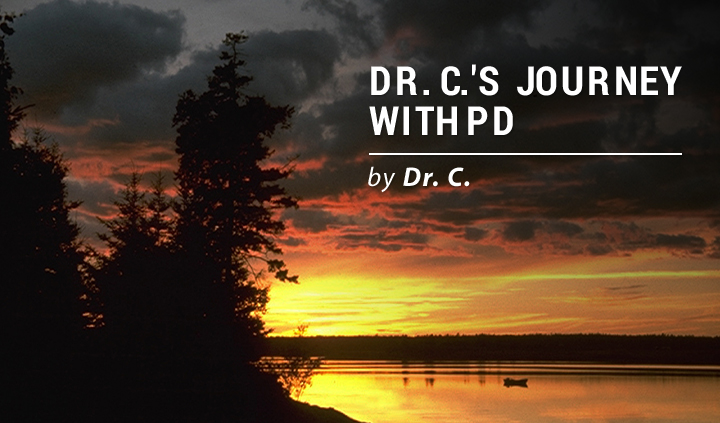 BOOM! Abruptly out of bed, I'm disoriented by flashing lights reflecting on the bedroom walls. I sit on the edge of the bed and look out onto what should be morning sun, bringing to life the cheery reds of bee balm against a backdrop of white birches. Instead, the sky is black. I thought it was night, but the clock says it's morning. Rain hammers out a discordant melody on our metal roof. It's a gloomy, wet, cold day. It sure would be nice to stay curled up under the covers.
Neo shouts at a volume comparable to the thunder, "Heck, no! You have only two days until your big research presentation."
I snap back, "I know! I know!" The cotton oasis beckons me to go fetal. Neo is quite annoyed with me.
"What are you thinking?" Neo inquires.
"Oh, nothing. You're right. I should look over the presentation, but I can't get motivated to do so. I'm so nervous that I can't even turn on my computer," I say, almost in a whisper, as I reach to pull the covers over myself.
"Oh, no, you don't. Get out of bed and let's face this fear. What's there to be afraid of? You know the material and you enjoy public speaking." Neo doesn't understand this latest development in my Parkinson's.
I retort, "It's not that at all. It's about my physical ability to do it. This summer, my Parkinson's symptoms got worse, and there are times when I cannot perform motor tasks. There is nothing I can do to stop these motor dysfunctions. What if one happens right when it's my turn to stand and give my presentation?"
"So your fear of failure due to the possibility of motor freezing is preventing you from doing anything at all?" Neo replies with a slight sneer.
Somewhat defeated, I offer, "I could go back to bed."
Neo points out, "That's not going to solve anything. Why not enter your sanctuary for a while? You know that helps." He is saying what I already know, but it is not motivating me to act.
"Really?" I counter. "Look outside. It's not exactly walk-in-the-park weather. Besides, my focus should be on how to make my presentation better." I move to the bathroom and start getting ready for the day.
Neo insists, "Embracing sanctuary is not affected by the weather. Your senses and your mind can still take in all that sanctuary offers, even in the rain."
I feel my emotions start to escalate. "I don't feel like calming down. I need the emotional energy to light up enough passion so I can break the chain of procrastination and the fears about my Parkinson's symptoms." I dress and head to the kitchen for breakfast.
Neo surveys my actions as I drop part of my breakfast on the floor. "You think you are more physically capable if you are all energized and full of passion?" It's a good thing Neo is incorporeal and safe from any unintended physical harm.
"I—" Pausing, I stare off at nothing in particular. "I guess not. But it feels familiar and, in that way, safe. I can't quiet down enough to use sanctuary right now. Each time I move toward quieting, the pain gets so loud it's unbearable. That's certainly not conducive to getting my presentation ready." I pace the floor as I continue to mutter about the presentation that's due in two days.
Neo points out the obvious: "Man, you are seriously stressed." He is adept at recognizing when the situation is going downhill quickly. "Time in the sanctuary does help with stress. You know that stress unattended will just intensify all your Parkinson's symptoms — physical, mental, emotional, and psychological. That big rock you're throwing at yourself creates too many ripples in the pond."
Between mouthfuls of granola and orange juice, I say, "I don't have the time. Perhaps another day I could handle this. I can't look at that reflecting pond right now. I'm afraid that I will hate what I see."
"I know," Neo says. "The path is always here when you want to walk it, and I'm with you." Neo and I watch the rain let up, leaving behind garden flowers painted with iridescent droplets that reflect the beams of sunlight poking through the storm clouds.
***
Note: Parkinson's News Today is strictly a news and information website about the disease. It does not provide medical advice, diagnosis or treatment. This content is not intended to be a substitute for professional medical advice, diagnosis, or treatment. Always seek the advice of your physician or another qualified health provider with any questions you may have regarding a medical condition. Never disregard professional medical advice or delay in seeking it because of something you have read on this website. The opinions expressed in this column are not those of Parkinson's News Today or its parent company, BioNews Services, and are intended to spark discussion about issues pertaining to Parkinson's disease.